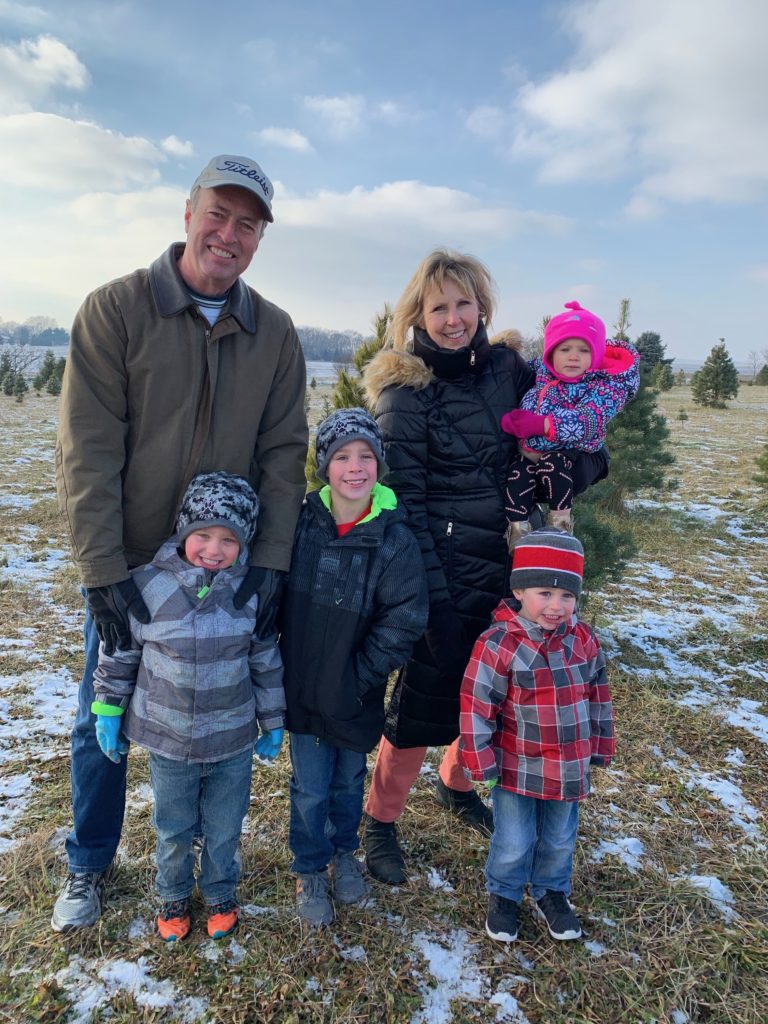 I spent a lot of the day thinking about my own grandma's as I prepared for what to share today.
They were so different.
Emma Grace Ploch lived in Louisville and had a very serious face. But then, by the time I came on the scene she had lost her mom when just a child, buried a newborn son and a husband, raised a family through the Great Depression and the Great Flood of 1937 and maybe she was just tired.
She wore serious house dresses and black lace up shoes with hose that were mysteriously rolled just above the knee. She made fabulous meals like fried chicken and ambrosia salad and roasts that melted in your mouth and produced vegetable dishes that made this kid love them. She used liberal amounts of bacon grease she kept in a crock on the stove top in a kitchen roughly the size of our master bathroom.
She loved us well and when I arrived as the youngest grandchild after an eight year dry spell, she dubbed me Pitiful Pearl after a popular rags to riches doll. I heard the story many times….Poor, poor pitiful Pearl she would say as she settled me and it must have been often because for most of my young years that side of the family tended to call me Pearl.
My dad's mom was Eugenia Otilla Lochner and she and my grandpa and all dad's siblings had headed to Washington State sometime before I was born. Dad spoiled my mom and we spent the major holidays with her side during his years in the Air Force. When he retired we headed back to their Kentucky roots and so I saw his side less. To them, I was and always be Laura Jean.
Because the "Jean" came from their side and so with that I knew…they claimed me whether I saw them much or little. I was one of them. Their Kentucky blood ran deep so it's more like one word…LaruhJEAN. I can assure you, distance does not dim love of family and I adored them all even if I didn't log as much real time with them as my mom's side.
As I remember, Grandma Lochner wore pants often to do her yard work. She too was a whiz in the kitchen. Like all my dad's side of the family, you never had to wonder what she was thinking and it was usually a colorful display of language we weren't allowed to use when things got heated.
In her 70's she rode the Amtrak from Washington to Louisville to visit us and when she was in her late 80's we sprung her from her retirement home and took her to a Mariner's game. She walked with those bow legs, that I would one day watch my dad inherit, down a mountain of stairs where she dined on hot dogs and chips and cheered her team on.
They were magical people, my grandma's. I didn't think of them as old or as my parents' parents. To me they were in a category of people that are set apart. Unique from all other humans. They either had time for me or they put an apron on me and put me to work next to them.
I can't say I really "knew" them beyond that they were my grandma's.
I can't say I remember them telling me their stories or explaining what made them tick. I'm sure they never shared their struggles or their hopes and dreams. They were a different generation, those grandma's and folks just kept those inward thoughts to themselves.
Or they were two busy frying chicken and canning asparagus to dwell on them much.
While my real time spent in the presence of these two women varied in quantity, the quality of those hours remain equal in my grown up heart. I cherish every memory I can drum up and who they were is part of who I am.
Even if I didn't know their deepest thoughts or have a working knowledge of their history, they live in my memories for the times I spent with them in the years I had them.
I wonder what our grandchildren will remember of me.
I can't write the script for them.
It will be captured in the moments spent together.
It will be their individual wirings that pick up what matters out of who I was to them.
I am not sure they will aptly portray me the way I saw myself. But I will exist in their memories in the ways they experienced our times together and pieced together through what their parents tell them about me.
I am thankful beyond words and humbled to hear them refer to them as "their" Lola.
As if I'm not really a person and more like they kind of own me through a God-ordained relationship.
I have joined the ranks of the likes of those women that birthed my parents.
I may dress differently and use new-fangled machines to get my chores done…when I actually do them. I may use a cell phone and not a black rotary dial with a party line extension. But I have the same things to give these offspring of our offspring that those women who helped shape me gave their grandchildren.
Unconditional love.
Unhurried time.
Unlimited attention.
For as long as God allows me. 
And my prayers for them will last…
To infinity and beyond <3
I sure would love to sit with you today over a cup of coffee and hear your Grandma stories.
Since we can't do that because I am headed out the door in about five minutes to go be Lola to the band of brothers and little miss thing, let's take some time today to read an amazing Grandma story found in the book of Ruth.
Let's read about Naomi and the way God worked through deep loss, a foreign daughter-in-law and a tightened heart to place a grandchild in the lap of this widowed woman to remind her she was not forsaken.
Read it with fresh eyes as you watch this grandma of the Root of Jesse discover laughter and joy at the end of a long journey of sorrow.
If you have received Christ, she's one of your Grandma stories too.
Precious.
Have a blessed day <3