A little mid-week treat for you <3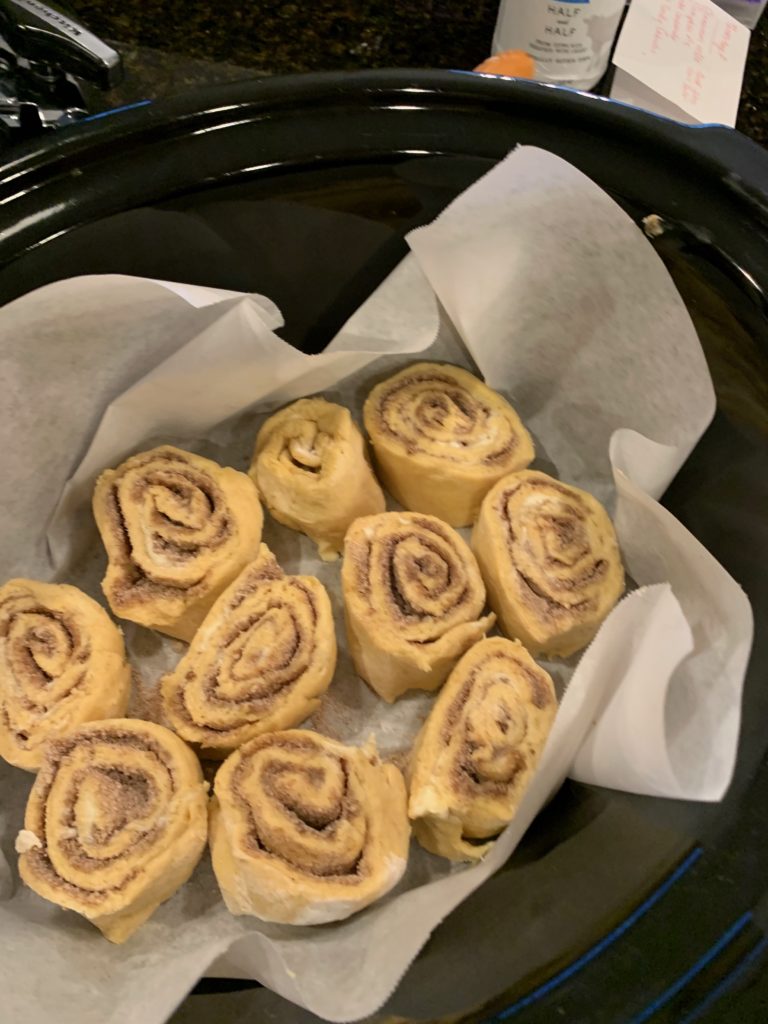 I am scrolling through a gazillion pictures on all media trying to find a picture of these as a finished product and am hitting a zero.
Trust me – they are gorgeous and delicious.
I made them for us one of our Sunday mornings when going to church meant sitting at the coffee table and watching online.
Then I made them for Thanksgiving and they barely made it to the end of the meal before everyone had gobbled them up. No turkey pun intended.
They are delicious and easy and here is the recipe which I have no credit to pass along except I cut it out of one of those bonus sections our newspaper does every now and again with recipes and decorating tips … so kudos to you Decatur Herald and Review.
Pumpkin Cinnamon Rolls
Prep is about 30 minutes and then 1 3/4 to 2 hours in slow cooker on high and 30 min to cool…only we never wait that long.
2 cups flour
1 1/2 tsp baking powder
1 tsp salt
1/2 tsp baking soda
6 T. Butter, cut up
1/3 cup half and half
1/3 cup canned pumpkin
1/3 cup butter, softened
1/3 cup granulated sugar
1/3 cup packed brown sugar
1 Tbsp. Corn starch
1 Tbsp. Pumpkin pie spice
1 recipe cream cheese frosting
Line a 3 1/2 quart casserole slow cooker with parchment paper, extending paper up sides halfway.
Stir together flour, baking powder, salt and baking soda. With pastry blender or two knives cut in the 6 Tbsp of butter until pieces are pea size. 
Stir in half and half and pumpkin.
Turn dough on lightly floured surface, knead gently 10 – 15 strokes or until smooth. (10-15 is enough) Roll out to 15×10 inch rectangle.
Spread with 1/3 cup softened butter.
Mix pumpkin pie spice, corn starch, and both sugars in small bowl and sprinkle onto of dough. RESERVE some to sprinkle on top!!! 
Roll up starting from short edge and seal seam – cut in 10 slices.
Arrange cut side down (which I never understand because aren't both sides "cut"…)
Sprinkle with any reserved sugar mixture.
Cover and cook on high 1 3/4 – 2 hours…check for doneness. You can use a thermometer and check to 185F, but I just checked for "doughy" look around center pieces. TURN THE PAPER ABOUT A HALF WAY TURN MID WAY THROUGH COOKING – although I forgot the first time and they did fine.
Remove paper liner from crock pot and maneuver onto a plate as able to handle.
Spread with cream cheese frosting and enjoy!
Cream cheese frosting:
Beat 2 oz. softened cream cheese (I use the Neufchatel version), 1 T. Softened butter and 1/2 tsp vanilla on medium to high 30 seconds. Beat in 1 cup powdered sugar until smooth. If necessary add enough milk to produce better spreading/drizzling consistency.