Actions speak louder than words…
Last Sunday Russ and I flew out of Dallas from Love Field.
In the midst of the busy food court, one lone establishment was closed for the day….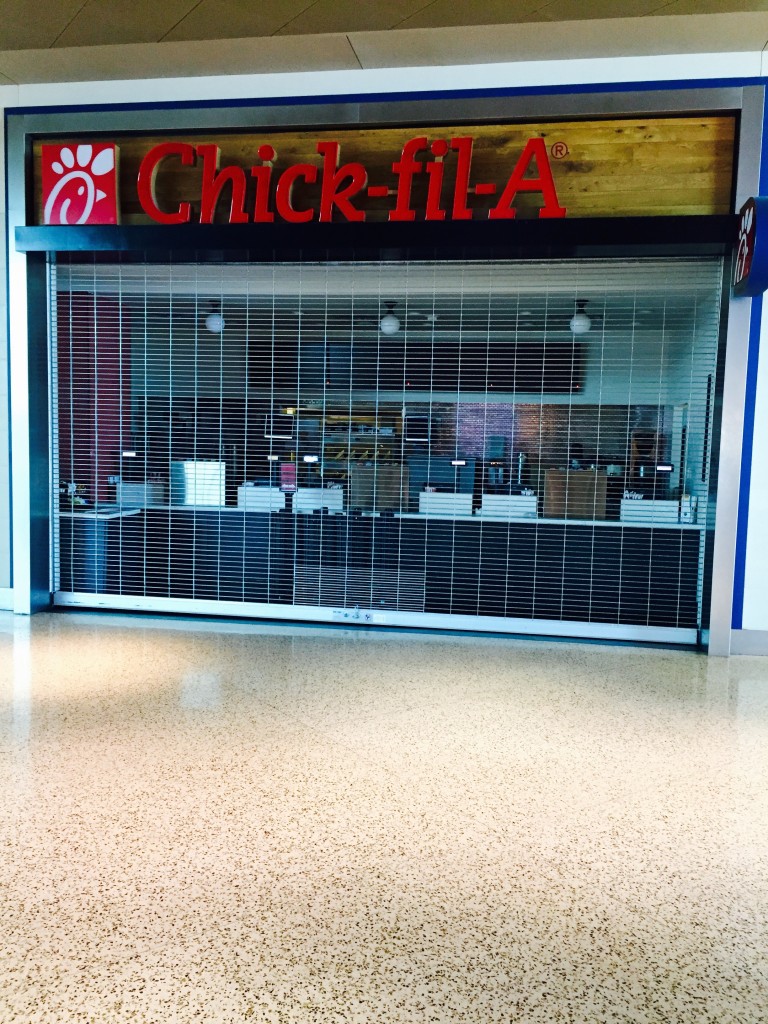 Chick-fill-uh, as I like to call it….just to make my family groan and correct my pronunciation….
According to their website, they have been closed on Sunday since their first restaurant opened in 1946; for practical and spiritual reasons.
Their founder, Truett Cathy, wanted his employees to have a day of rest, time with family and the freedom to attend a worship service if they wanted to do so.
Their bottom line wasn't financial profit or religiosity.
It is simply a reflection of how the head of the business viewed honoring the Sabbath and he wanted to extend this to those who work for him.
What he believed mattered more than what he banked.
This has an impact beyond the care of a company's employees.
I recently overheard an interesting conversation between two people planning a road trip. We don't have a Chick-fil-a in our hometown, so fans of the food are always looking for ways to sneak in a visit when traveling.
As one of them plotted how they could hit there around noon, the other reminded her that it would be closed that day.
It was clear from the ensuing dialogue that neither is likely a church-going, Sabbath observer kind of person. The whole concept that the restaurants are closed on Sunday was both disappointing and intriguing to them.
As they discussed it; however, both acknowledged, with respect, that it is impressive that the company stands by their beliefs even if it means a loss in profit. This sacrifice of income stood out to both of them.
I am not trying to make a spiritual hero or role-model from this. We only have one role-model and His Name is Jesus Christ.
But, clearly our decisions to honor God in the way we live our lives makes an impact in our community and the world.
Our actions, lining up with our beliefs, give the world a truer picture of what AUTHENTIC and GENUINE faith look like.
In a climate where being ranked #1 and scoring the largest share of the market are what it is all about…how refreshing to see Christ-followers truly following Christ, even and especially at a cost.
We don't have to go out of our way to seek attention. We just have to mirror in our daily lives the beliefs we hold in our hearts and declare with our mouths.
Makes me think of this sweet quote I love so much….
"It is a bad world, Donatus, an incredibly bad world. But I have discovered in the midst of it a quiet and good people who have learned the great secret of life. They have found a joy and wisdom which is a thousand times better than any of the pleasures of our sinful life. They are despised and persecuted, but they care not. They are masters of their souls. They have overcome the world. These people, Donatus, are Christians…and I am one of them." Cyprian, Bishop of Carthage; 3rd Century AD
The joy and wisdom we have found in Christ; the transformation as He shapes more and more into His image; the pursuit of holiness…these mark the lives of Christ-followers.
Let your gentleness be evident to all. The Lord is near. Philippians 4:5 NIV