Christmas Countdown 2021 Day 4 <3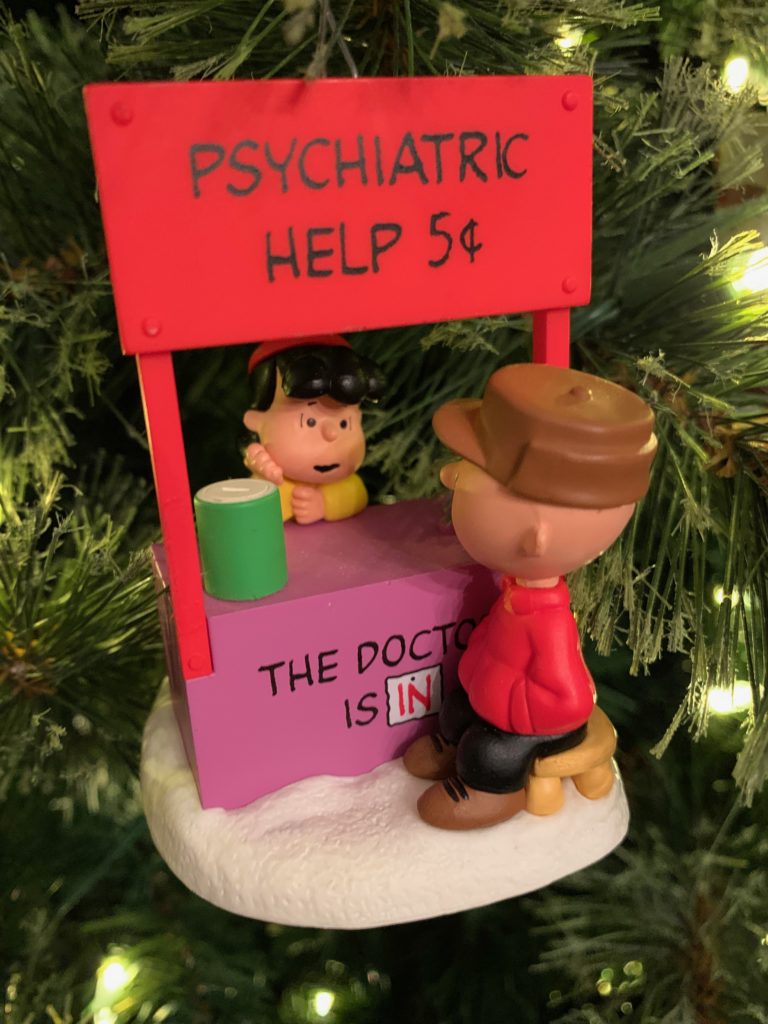 Back in the day, I looked forward with anticipation for the arrival of the ornament display at the local Hallmark store. I am a sucker for anything miniature in scale so the scenes and figures with small details added to tell a story were right up my alley.
Spending much time looking over the offerings for that year, I would carefully select just the right one to represent each member of our family. 
I have to be honest. I don't know if I bought this one for Russ or he bought it for me or I bought it for myself, but it is the story of our public life. 
A routine trip through the check out lane, purchasing stamps at the post office window, standing in the church lobby on Sunday morning, scanning a menu in a restaurant – we are a magnet for people's stories.
Complete strangers – clerks, wait staff, random people just walking past us and others who are only barely acquaintances seem to freely share what's on the mind and heart with both of us.
Our eldest, who also has inherited the "a penny for your thoughts" gene says it is because we make eye contact. I can't see where that is the case as I have had people approach my back and begin chatting with me like I know them.
Russ used to comment that my shingle must be out again after we would walk away from some outpouring of far too much information and we would marvel that someone felt safe to unload on us.
The thing is, we really do care.
We do listen and commiserate and step into the story being shared. It isn't always convenient and while I am not punctual on my best uninterrupted-by-others days, I am often even later because of divine appointments. 
I often try to think how Jesus would live in the times in which I was placed and I think that is how He would move through the day.
I don't do it well but I think engaging with people, even just briefly and letting them know they were seen and heard for a few minutes is a ministry. 
It isn't one I would seek based on my introvert tendencies and social awkwardness but it has become one that I thank God for as He has caused it to happen over and over again.
It starts with a simple prayer:
God help me to see others today with Your eyes and help them to see You in me. 
Blessings and happy Saturday, my friends <3