Hey, hey it's my birthday week….Day 3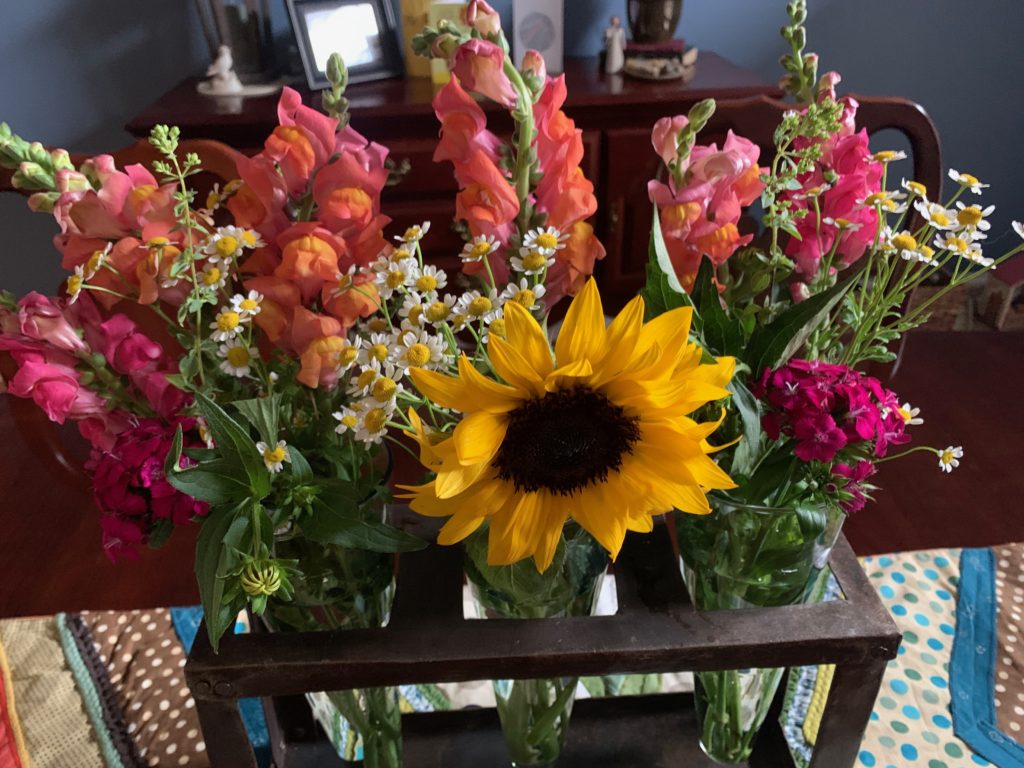 Happy Wednesday to you!
If you are just joining in this week, I am approaching a milestone birthday this Saturday so in honor of the event I decided to share some memories of other banner years that we typically think of as landmarks along the way.
Seems they are the "decade" changes that grab us, and of course the Medicare delight of 65 which will be this year's festivities.
Yesterday I shared about my 30th so today's a glimpse of how 40 went down. In truth, I didn't dread turning 40 because 39 about did me in. Something about a 9 on the end of a number makes it seem worse, I guess.
I celebrated 39 with a deep sense of introspection and in all areas of where I thought I would be at that age, I failed miserably except for being happily married and having three children aged almost 13, 9 and 7.
In my mind I thought at that point of being an adult and a mom, plus on the brink of turning 40 the next year, I would have figured out so much more than I had. 
Instead of feeling mature and grown up inside, with clear focus and direction, I still pretty much flew by the seat of my pants most days, cried and laughed way too much; simultaneously over everything and invested far too much thought into things that didn't matter and not enough in things that did. 
But I powered through the days of my 39th year on planet earth and I think God must have done some mighty works in me because I began to realize that no one really has it all together. Some just look better doing life and keep a lot buried under the surface. 
I also finally understood grace and began to experience the death of an imaginary heavenly score card where I was constantly trying to make up for mistakes and never quite balancing the account.
I did begin to feel settled in what I could change with God's help and what would probably never change and it was a growth year. We had moved across town during that year and I felt like we were in a good place with our kids and our life and our church. 
My two closest friends had turned 40 before me and their husbands had treated all three of us to a special birthday trip. The first one was to see Oprah in Chicago where we stayed all night in a hotel and enjoyed some fun friend time.
When my other friend turned 40, her husband treated us to a trip to NYC to be in the audience for Regis and Kathie Lee. Again we had so much fun, touring the city, taking in some shows and even talking our way into the audience of The Tonight Show.
As my birthday approached, I was very thankful my husband was content to not try and meet or exceed any of those gifts.
Our move to the new house had been accompanied by our old house not selling. We were in the early process of owning two homes that would last for three years. Ignorance was not bliss, but merciful.
Thankfully he was content to do things in a way that honored me and also respected our current financial situation.
I assumed we would be doing some kind of dinner and cake with the kids and I was totally happy with that, but he ended up inviting me to have lunch with him downtown on top of our usual method of celebrating.
I dressed up and thank the good Lord, my curling iron didn't malfunction because as I met him at the Decatur Club downtown, he led me to conference room. 
You would think he would never have attempted a surprise party again, but you would be wrong.
The door opened and there was a beautiful luncheon set up with so many sweet ladies from our church and friend circle. My parents were even there.
My heart was overwhelmed, not only because of his kind and thoughtful surprise, but to see all these women that God had surrounded me with to love and be loved by. 
It was a wonderful day and I am truly grateful for the faces that I still see when I remember that birthday party shared with so many. I would not have thought to list all he could have or should have invited and yet, he nailed it 100%
So many of those dear people are no longer a part of my daily or weekly or even yearly social life.
Many have moved away, some have passed away and in full transparency some of the dearest have parted ways with us by choice.
I won't even say I am bittersweet about this. The bitter is completely gone and all that is left is the sweet.
I have shed tears and prayed and asked questions, but in the end of it all, I am so thankful and grateful for the years God gave me with each and every person, even the ones from whom I am estranged. 
The gift of their life, love and friendship during the season we had was and is a treasure that moth and rust cannot destroy.
I didn't mean to add a lesson to this week, but I must.
In the journey of life, not everyone will walk the long haul with you. But the part of the trail you shared is a gift from God. It is so precious and I urge and encourage you to do the hard work of repentance, confession, forgiveness and then if all else fails and the friendship is never restored, pray for that one, thank God for that one.
Love that one with all your heart and cherish the memories you have as golden <3