A big day in our house and a special guest to share with you <3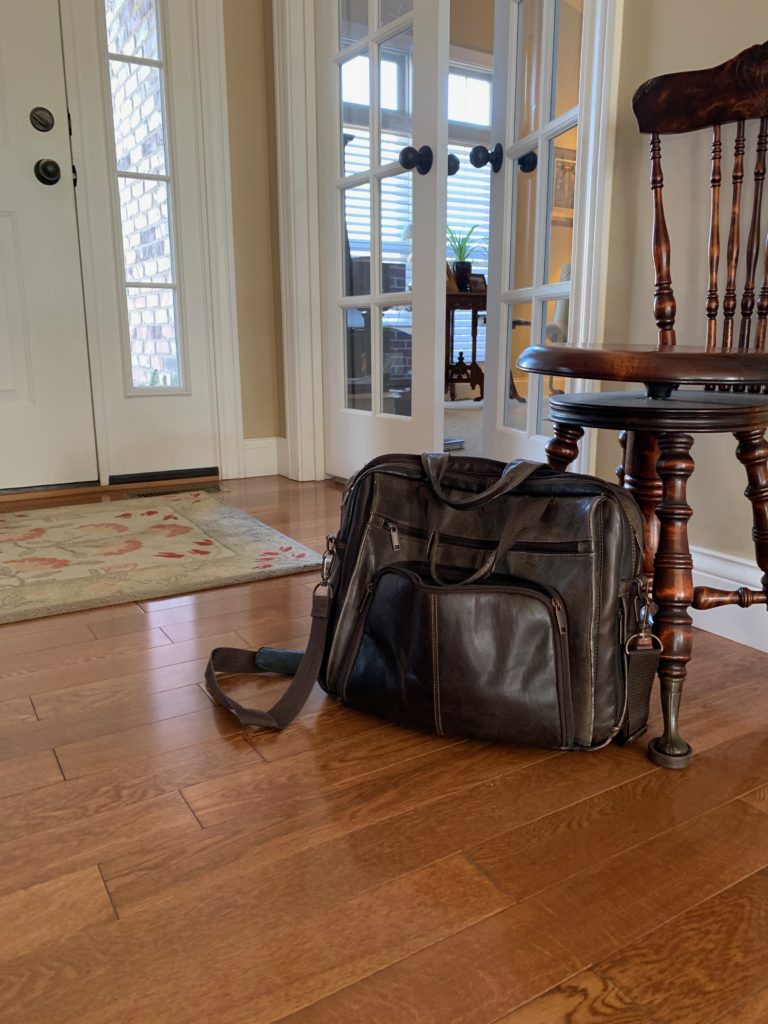 Today is a very special day in our household.
While I have changed jobs as frequently as some people refresh their wardrobe, my better half has been a faithful employee at Archer Daniels Midland Company since he first walked in the doors of that facility a month after we said our vows and packed our meager hand-me-down furniture, some wedding money to live on and moved into a one bedroom apartment in a town where we knew no one.
For thirty-nine years plus a few months he managed to give both his work and us his very best.
The standard he holds others to is no less than the one he holds for himself and he is gracious, kind, diplomatic and focused 24/7. And today is his last official day on the job.
Whenever I have met people who know him through work they do the usual bantering in front of him but at some point make sure I know what a fine man he is. I can honestly tell them that yes, I know that. Because the man they know at work is the same man at home and he is and always has been the finest human being God ever gave me the privilege of meeting let alone spending my adult years with.
I had thought to ask him to write a post but thought he would decline and then last week he asked if he could do a guest spot for his last day. I was thrilled and I know you will be blessed by his farewell words.
So without further ado…
A Good Run by Russ Reimer
My world is changing today as I will wrap up my years of service at the only company I have worked for since leaving college. On Monday, I will wake up and not have a steady job to report to for the first time in almost 40 years.
Will it be strange? Most definitely.
Will I miss the challenges that have been sent my way? I will.
Will I miss the kind people along the path that have helped me get to this point. Very much so.
Am I ready? I think I am.
I have seen many people leave the work force over the years. Some on their own schedule and according to their own plan. Some not as fortunate, impacted by downsizing and corporate decisions.
We live in an unusual time and for many situations the choices are made for us. The world seems to be against us and the goals we have for our families and our careers are not always achieved.
The difficulties we are faced with can sometimes seem unsurmountable and keep us in a downward spiral.
I have been there.
I can recall some very difficult times in my work career when I thought this just isn't working.
Projects over budget, employees getting injured and ongoing natural disasters that limited my team from accomplishing our goals were all factors that could have changed the plans I had made.
I have kept one scripture in mind through it all.
Philippians 4:13 which says: I can do all things through Christ who strengthens me.
God has provided for me and my family through the ups and downs of the working world.
I have prayed for my employees daily for many years now and this has helped me regain my focus.
I can't control the things that are bigger than me but I can turn it over to God to help me make it through.
My next journey is a little uncertain due to the fact that I will not have a set schedule.
Chasing grandchildren, playing golf, time for reading and time for myself will be on my calendar and that's ok.
What's next is not known; however, He is in control.
I am grateful I have my best friend to help me navigate the waters(my wife of nearly 40 years) and I am sure I will drive her crazy.
But that's ok too.
We started this journey together as two very poor college students and have gone through much to get to this point. Pray for her as she gets more time with me than she has ever had!
To my current colleagues, former colleagues, peers, friends and family members; thank you for the role you have played in this chapter.
As a good friend tells me on a regular basis, we are now entering the 4th quarter(60+).
I hope we make it to overtime!
 It has been a good run.
Russ