Christmas Countdown 2021 Day 11 <3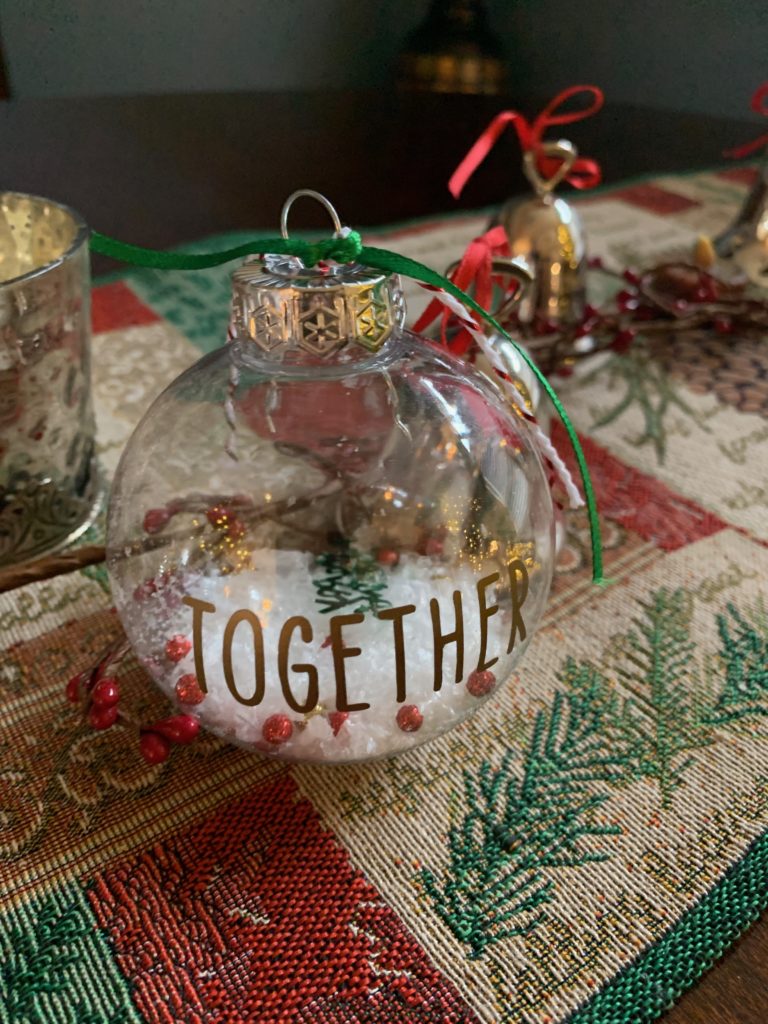 Last night I added this beauty to the collection of ornaments for our tree.
It is the prototype for the craft we came up with for the women's ministry Christmas event this year at church.
When I look at it I picture sitting around a table  with a group of women of all ages as we brainstormed what the Christmas Event 2021 would look like. 
We hoped and prayed we would be able to be together instead of the on-line party we held last year.
I offered an idea for a table craft for the ladies and recruited a new friend to be my cohort in planning and getting the materials and method pulled together. We invited others to help with the pre-work that needed to be done.
As we met one evening around the kitchen and dining room tables in our home sticking Cricut labels onto plastic globes and funneling snow into them, we prayed the new variant wouldn't cause us to have to cancel the whole deal.
Like every other thing we try to plan anymore, I wondered if one of us or all of us would have to miss it because of quarantine.
But it happened.
We gathered as safely as you can anymore and we worshipped and listened to some of our wise women leadership share and we made ornaments and ate and talked and it was precious.
I got the idea for the ornament from this little gem that hangs on our tree. It was from the baby shower for one of my dearest friend's granddaughters birth.
It reminds me of another gathering of all ages and the joy of celebrating a new little one.
God has blessed me with so many sister-friends to share the journey with. I look back over every age I have lived and I can name at least one if not more female friends who I laughed with, sometimes got upset with, shared experiences with and made me better.
Ironically, my birth sister and I have no relationship. I share that not for sympathy but because I want you to know that if you do not share a close relationship with your blood kin, you are not alone.
I pray for her.
I hope she is okay.
I miss her.
But I have done all I can to try and breach a gap I don't understand and it hurts.
A lot.
But I know when I pray, God reminds me that He has given me a family my whole life and for eternity.
One of my favorite verses of Scripture is this:
God sets the lonely in families…Psalm 68:6
I am reminded that many of the saints in Scripture and even Jesus struggled with family dynamics.
While we strive always to be at peace, God knows and understands when there are divisions that split families apart despite our best efforts.
I pray today for those who have a similar situation. I pray that this year God would bring some peace and reconciliation into our families and homes.
Blessings on you and yours <3