Christmas Countdown 2021 Day 23 <3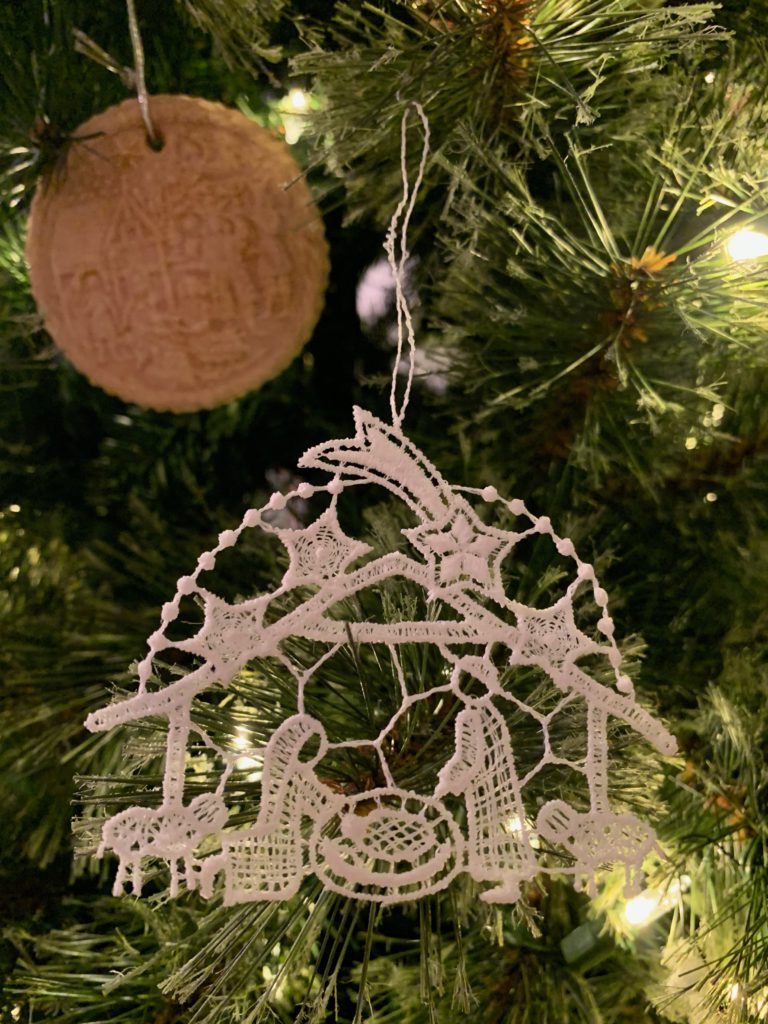 Oh friends…we are a day away from Christmas Eve.
Time is of the essence here at our home just as I can imagine it is in yours.
So a short but sweet story about this lovely lace ornament.
It was brought across the ocean to us about five Christmases ago, I think…don't fact check me please…I am doing my best with my memory.
Our Sarah had traveled to Europe with a friend just before Christmas.
We lived vicariously through her photos of various stops.
She gifted me this beautiful cape purchased in Paris as she knows I love all things French…and it is sure to pull a compliment or more any time I wear it. 
She shared about the most charming Christmas town she had visited and where she had gotten lace ornaments for all of us.
I love it because it is beautiful and because it is from her.
Fast forward to this year as we helped with homeschooling the band of brothers.
Graham's English lessons include a shared reader – we take turns reading a paragraph and so it was that he and I started a sweet story about a grandmother who made lace in Bruges, Belgium and her granddaughter who was learning the craft.
We looked up lace making and watched a video and marveled at this art form that continues today.
I know you can see where this is going, but just enjoy.
It was a lovely story and I got to end it with him. As we finished the story; he smiled and said, "You are going to cry, aren't you?"
Like always I tried to pull it together as we read the last pages, but yes…I cried.
And then it dawned on me the connection…so I texted his Tia and asked if the lace and the beautiful Christmas town she had loved was Bruges.
It was.
I was able to tell Graham about her trip and show him photos of this quaint city and suddenly this far away place grew closer because his Tia had been there. 
Expanding our understanding beyond what is front of our eyes is part of learning.
May we always have teachable hearts <3