It seems the only routine we have around here is that we have no routine.
We have the semblance of a routine, but in reality each week plays out just a bit differently than we thought it would. 
So as I had an unexpected opportunity to work today, I am short on time and thought it would be a good day for some randoms…our first ones for 2022 and here we go in no particular order:
#1
Yes, we still have our Christmas trim up.
We also still have a pile of presents waiting for our Christmas with Tia and company. The hope is that we get a make up day on Saturday, if the snow doesn't fly as has been predicted. 
I told Russ that I was leaving all of our trim up until we could have Christmas with her, but I also am getting over it a little and so small pieces keep making their way down to the ping pong table.
That's the gathering spot of step 1 and then I will drag out the boxes and start putting things back where they belong. 
Seasons are like that, aren't they?
We love them and enjoy them and are a bit sad that they are coming to an end and then suddenly one day we are just done and ready to move on. 
#2 
I don't know anyone who didn't have some kind of glitch to Christmas this year. 
In every conversation there is a story of how someone tested positive or thought they had symptoms and plans were rearranged or canceled all together.
Some things went far worse than just a minor inconvenience, but we all seem to have shared the same kind of interruptions to plans. 
I want to state that it has gotten quite old.
Sometimes I have to stop and just count on my hand how long it has been since we first heard the rumblings of a virus that was found in China and seemed to be making its way into other countries.
January 2019 
2020 – pick your favorite meme and put on repeat
2021 – a return to normal and then, whup…no…no…we are back in it again
2022 – the variant nightmare continues
Yes. It has been that long.
And we have lost a lot of life that has not been what we thought it would be.
We have lost people and time and experiences and sometimes we need to just stop and grieve a minute and then pick up what we do have and thank God for those things and people and keep going.
We are not the first generation on planet earth to experience life-changing loss globally.
It makes us look back at our parents and grandparents and further back and farther away around the world where suffering exists beyond just our minor gripes and realize all that we do have that is worthy of gratitude.
Or maybe that's just me. 
#3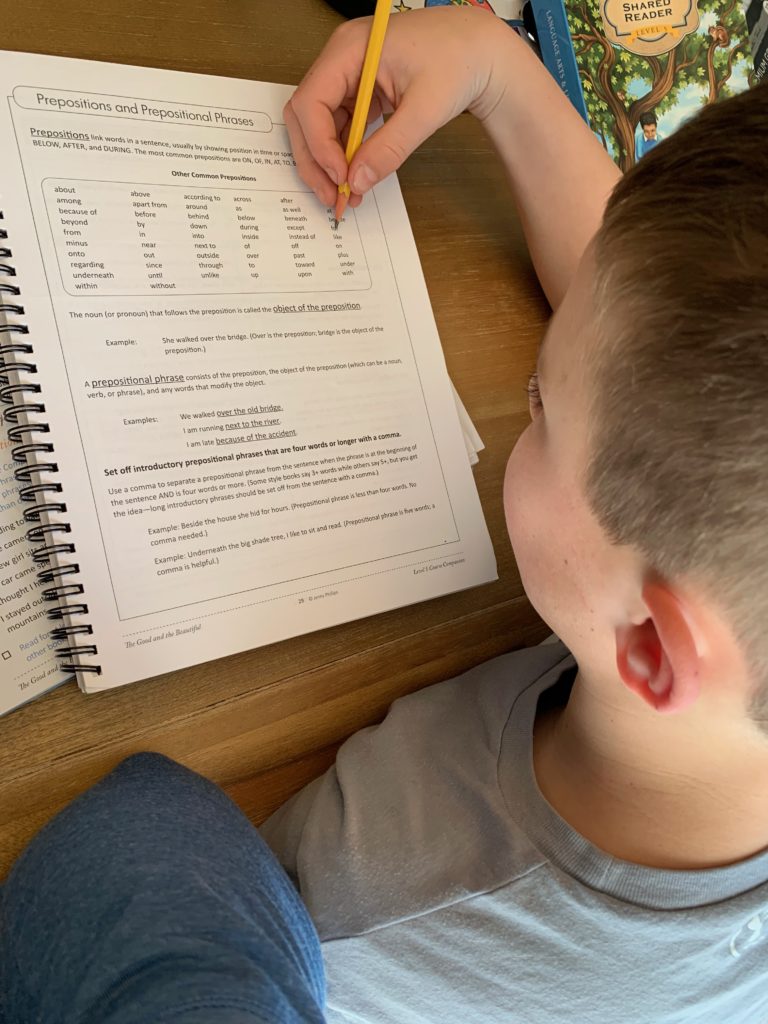 I was helping Graham with 5th grade grammar yesterday and while I acted like I knew what I was talking about, deep down I had to admit that I long ago ceased to care about what prepositions are, where to find their object and how to use punctuation around them. 
English classes were my jam in elementary through college.
I loved the challenge of writing well and vocabulary work sheets were my happy place. 
What. Happened.
I am now totally dependent on spell check and never give a thought to run-on sentences and funky punctuation like….this and <3 that.
I wanted to tell Graham not to sweat it because like most of the things he is learning, very few will he noticeably apply on the daily as an adult.
But they lay the foundation and ground work for life long learning, so I just kept my focus on the rules in front of us and helped him locate those prepositional phrases like they were life itself. 
Quick quiz…do YOU know what some common prepositions are and the rule regarding comma use? Good on you, if you do and PS….if you are free next Tuesday let's have coffee at the home school cafe…
#4
Ever since we cleaned out our closets, I now cannot stand the mess of my desk.
In an act of total transparency I am sharing it with you.
I have, among other things…several items of the grands that need a sewing repair (do I have a needle and thread anywhere near my desk? No. No I do not), a stack of notes and ideas, coupons that have expired, papers that need to be filed, old receipts, new receipts, assorted stationery and stamps, inspirational tidbits and several coffee stains. 
Good Grief.
My brain functions so much better with order in my environment but my indecisiveness about how to deal with things hampers me from clearing away the chaos and clutter.
I literally have to pray and ask God to help me every single step of the way.
Do you have areas of your life where you know you need to just get in there and do the thing, but you need some kind of super power to make it happen?
Every day of my life.
Seriously. 
I am thankful to God always and most importantly for my salvation, but I am also deeply grateful for His grace and help on the daily.
And….finally…
#5
I am excited to be starting the new Bible Study by Kelly Minter offered through Lifeway this month.
Lifeway is offering the videos for a reasonable rental price and they usually leave up for a couple of months so you can finish it even if it takes longer than the six weeks of the study. 
What are you studying as we begin a new year? Would love to have you join me for this one!
Okay…I am done.
Time to curl this hair and head out for work.
Happy Wednesday!
You are loved <3