Love conquers fear…or at least helps it bow down to the One who casts it out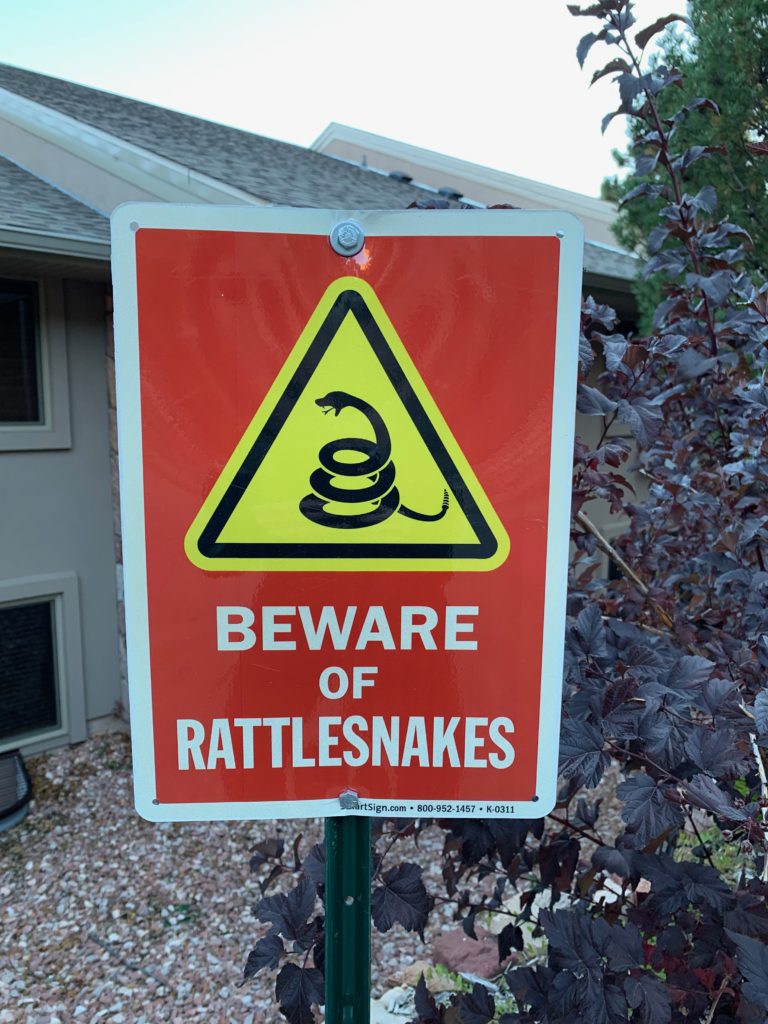 If you follow the blog, you know I was in Colorado Springs last weekend for a conference. It was held at the Glen Eyrie Conference Center on the property which also contains the home offices for The Navigators. The setting is absolutely breathtaking, as it borders up against The Garden of the Gods. …. Irony.
Eight miles of trails that wind up through the rocks and cliffs that continue onto a ridge where you can see for miles are located on the property around the headquarters and conference center.
My friend and I opted to use three hours of free time on Saturday to explore the trail closest to our lodge.
As we began our trek along the narrow, clay-red paths that ascended ever upward I had to stop and tell my hiking companion that I needed her to be forewarned.
Since the vegetation and dry dirt were evidently quite desert like, I sensed there was a strong possibility we might encounter a snake. I had to warn her that in the event this happened, there would be a blood curdling scream and an insane overreaction unlike anything she had ever witnessed in her entire life.
She raised three daughters, but I knew without a doubt the trio could never conjure up the heights of hysteria she would have to face if something slithered across the path in front of my feet.
She assured me that we would have no such event. The weather was too cold and all the serpents were burrowed deep in the ground. I trusted her because she is from Texas, and she speaks from experience.
Thus we continued on with a lovely hike and no extreme meltdown ensued.
Fast forward to Tuesday morning.
I had returned to the Midwest and was occupying Miss Caroline with a walk/bike ride while her mom held a science class on astronomy for the band of brothers.
She was riding her bike and I was walking their dog and since she was in the lead, Lucy and I just trudged along trying desperately to keep up. 
We headed down to a park like area of prairie grasses and a creek. As we rounded the corner just before the bridge, I could see that Caroline already had her helmet off and bike parked and was headed toward me when she shrieked and came running to hide behind me.
With real tears pouring, she was shaking as she pointed toward the path up ahead. She got out that she thought it was a stick, but Wowley…it MOVED!!!!! And sure enough, up ahead I could see a small snake like thing lying in the sun on the concrete between us and her bike.
I have a photo because I sent it to her mom, but I will not share for those that are like me and would have nightmares for weeks.
At best it was about 8 inches long and quite thin, but I wanted to scream and dance up and down with my sweet little granddaughter.
I considered the bike on the other side of this satan being as good as abandoned and I was fighting every impulse to grab her little pink cardiganed self up in my arms and run like Florence Griffith Joyner in the Olympics of the year this little child's aunt was born.
But God's wisdom grabbed hold of me.
He shook me and reminded me that this little child needed a brave woman, not a screaming maniac, to lead her.
I knew He was right, turned around and I got down low so we were face to face and I asked calmly if she would like Lola to get that critter to move off the path and back into the grass.
She nodded big and looked deep in my eyes, the way she does, and I suggested we pray.
We bowed our heads over Lucy and I told God that I knew He knew, but we were scared. And we knew that snake wasn't very big and meant us no harm, probably, but we were shaking and we needed Him to make us brave. Then we thanked Him for making all things for His glory and said Amen and I told her to look away if slithering bothered her.
Lucy and I approached the loathsome thing and I stomped my foot a bit and then a little more and looked away as it did that thing that grosses me out so badly and exited from the path to the grass.
When I checked my phone, I saw that Rachel had offered to load up the boys and come get us.
I texted back that I had been a brave one and told her what we had done.
I believe she said something to the effect of "Who are you, even????"
But I told her what I told Caroline. That little girl made me brave.
People.
We have a whole lot out there that is scarier than a snake, or whatever it is you fear the greatest.
But we have a generation of little ones coming along behind us who need us to be brave.
Do it….do the things you fear….live the life that shows those coming behind you that you gave it all for love of people and the glory of God. 
Pray to be brave when you have to and then do the thing you fear.
God is with us and He is for us <3