Pruning may be necessary but is never fun <3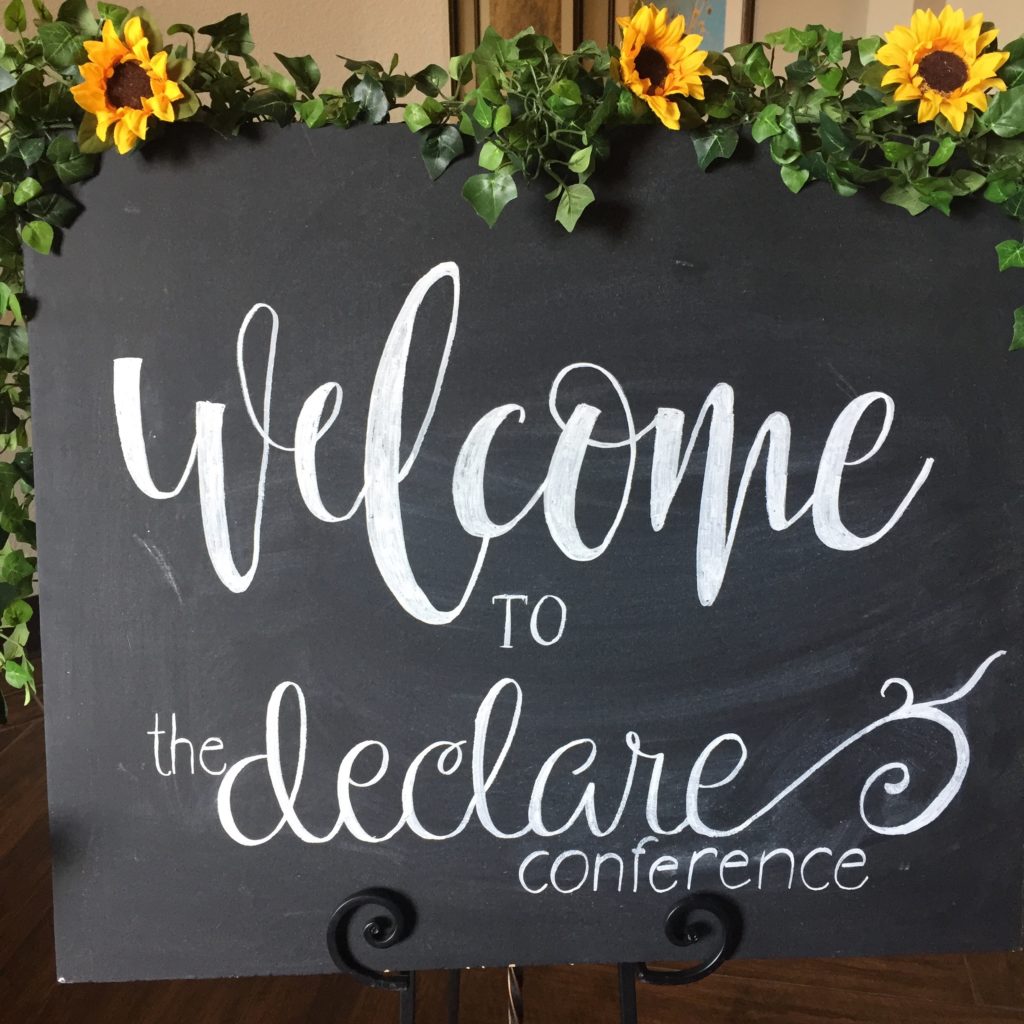 As you may remember, I have been blessed to attend some conferences for writers and speakers the past few years. 
My first was She Speaks and out of it this blog was birthed. A couple of years later I returned with my cousin Betty and that was fun and led me to sharing the blog on Facebook.
Two years ago Russ asked if I wanted to attend another conference and after doing some research I found one in Texas called Declare. I contacted a blogger I met at my first She Speaks and we decided to sign up and room together. 
I share a lot of her wonderful podcasts that she does at The Warrior She.
The following year, I returned to this conference with plans to room again with Lisa and the added bonus of taking my friend from home, Melanie Brown, who has a fitness ministry. While there we reconnected with a friend of Lisa's named Shelly Templin. I share a lot of her posts as well because they are wonderful.
And this is the heart of the Declare Conference.
To bring women who write and speak and podcast together so we can connect with people who understand the challenges and struggles and temptations and failures and victories and all the technology issues that accompany the call to use words, whether spoken or written, to communicate and encourage others.
The first conference was held nine years ago and has grown and expanded. The founders have added an online community and a podcast. They have developed Connection groups that meet throughout the year and they have formed a team of leaders who are cohesive and focused and full of energy and ideas.
They also serve faithfully in obedience.
And obedience comes with a cost at times.
Because while the annual conference has been gaining steam and could just continue to grow a larger capacity to draw more and more attendees, they have heard the voice of their Shepherd and He is saying…no.
Next year will be their last conference.
What they have done with excellence and have improved on and poured into and tended with faithfulness, is coming to an end.
They will continue in the capacity that God is directing them, but they will no longer host this successful conference.
This is so in character for the women who lead this community.
In all the years, they limited the attendance to a number that would allow for fellowship and an intimate and safe environment where we were allowed to gather and worship, talk, learn, encourage and grow.
In our culture, and even in the culture of the Church, so often we are geared for increasing our reach instead of our depth.
We ask: How can we get more and more people to come to what we are hosting?
When maybe we should be asking: How can we best serve the ones You are inviting to come?
Bigger is not always better.
In the words of founder Eryn Hall, they believe God is not calling them to host a conference any longer and so they are ending it next year on their 10th anniversary. She delivered this message with a beautiful smile…and eyes brimming with tears.
It would be so much easier to continue doing what has been working…it would be so tempting to keep adding seats and seeking out speakers who would draw a crowd…but it takes courage to listen to God and silence the voices that ask what will people think…to step forward into the unknown even when our hearts are hurting and we have to end something that was so sweet for us and for others.
In their obedience, I am encouraged again to listen carefully to the leading of the Holy Spirit.
We who follow Christ are simply vessels of His voice and His touch and His ministry to others in the world.
We follow Him and His example.
I think of how Jesus did ministry.
He moved from town to town. He left crowds unhealed and untouched to move on at the direction of His Father. He was where He was supposed to be, doing what He was supposed to be doing and leaving the 99 to seek the 1.
He didn't always act the way the people wanted Him to, or expected Him to and He calls us to the same level of obedience.
In closing I want to share with you some of the wonderful women I have met through the Declare Community and give you their links to check out. There are a lot of women who are speaking out life and truth in this world in small ways…doing big things for God quietly…promoting Jesus instead of themselves…building places of growth and learning through the technology available to us in these times…so check a few out for yourself:
#1 The Declare Conference is a wonderful event where you can connect with other writers, podcasters and speakers to be encouraged and to build a network for support in fulfilling your calling:
Lisa Wagner shares a weekly 20 minuted podcast featuring women in Scripture and how we can apply the lessons and examples of their stories to our every day faith struggles. She also provides a free downloadable pdf to enhance learning and help you apply the word of God to what she has shared on the podcast https://thewarriorshe.com
With humor and wisdom, Shelly shares stories that both entertain and instruct. https://www.shellydtemplin.com
Shelly also writes frequently for a group that provides love and support for those who have experienced infant loss. You can find this community at https://hopemommies.org/about-us#
Melanie Brown leads local fitness ministries in the Decatur community as well as provides excellent coaching available online through Faster way To Fat Loss. She is a bundle of joy and energy and just makes me smile. You can find her at https://www.motivatedbymore.net
Shontell Brewer has a passion for freeing victims of human trafficking and reaching people of all ages through opening her heart and home…and Taco Tuesdays….she is just fun and wrote "Missionary Mom" and I only met her in person one time in a prayer room at Declare, but she has found a home in my heart. You can find her here http://shontellbrewer.com
Oh there are so many more…but that's probably enough for today.
Be blessed.
Be as big or small as God designed you to be and just trust Him with all of it <3