September book check-in <3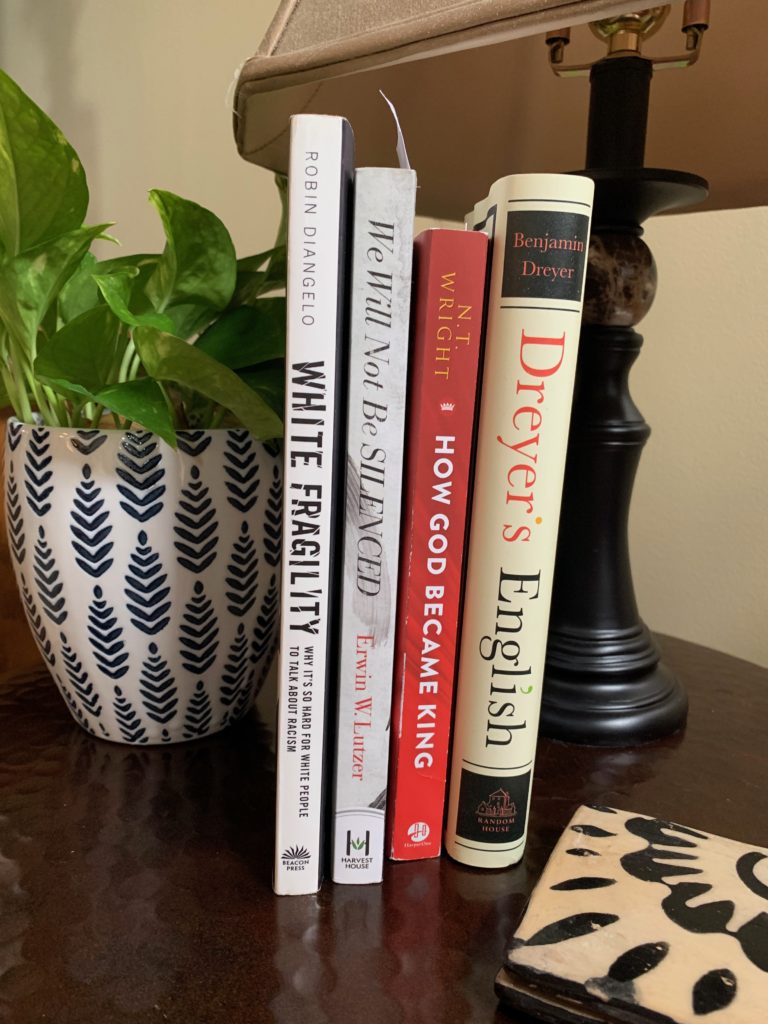 Well….here we are almost a full week into October. But I like this monthly accountability (even when it is kind of embarrassing how little I actually read…)
This was the goal for reading in September and I confess I only finished one book and got less than halfway through a second.
I finished How God Became King by N. T. Wright and it was very good. Weighty and sometimes hard to process, but very good <3
Since the book was on loan from John I restricted my pen to taking a generous amount of notes in my journal. This slowed me down and I am a slow reader anyway so that might explain the poor performance on only finishing one book.
Here are some highlights I gleaned:
We have sometimes misrepresented Jesus by only honing in on one aspect of Him that suits our purpose and have missed the fullness of who He is.
There are four main speakers in the gospels of course…Matthew, Mark, Luke and John. The author uses that term as a play on words to say that we have often separated what they are saying to fit certain audiences. In doing this, he says it is like "speakers" that carry sound and if you turn one down too low or up too high you distort what is being transmitted. He explains very clearly how the four Gospels are written to an audience that never would have separated them out the way we do.
Wright does an incredible job of using Scripture to present the fact that Jesus Christ was bringing the Kingdom of God to earth NOW.
Yes, a day of total fulfillment will come, but Jesus is King of heaven and earth and His Kingdom reign is over the whole world.
He points out that Jesus fulfills all four points of Scripture's prophecy of who Messiah would be and what He would bring.
The four points are:
The Gospels as the climax of the story of Israel
God as the Savior of His people
The story of Jesus launching God's renewed people
Kingdom of God confronting the kingdom of "Ceasar"
In the times we are living, I found this book to be so encouraging of my faith.
It helped me by strengthening things I already believed, but also by showing me where I have gotten off-center and viewed things through a world-view instead of a biblical-view. It also helped me with the puzzling question of why we have all the accounts of Jesus' life on earth if we only focus on a few points for the purposes of sermon texts or reasons we believe something.
I do recommend this book. It is like taking a class. Keep your Bible hand and if you are a note taker, buy your own copy so you can mark up freely!
Now for next month, here is the plan….
I took this photo on the floor to show I have significantly lowered my expectations of reading more than one book…sigh…maybe my overachiever mode will be ignited and I will surprise us all.
I was not prepared to like the Lutzer book. I thought it was going to be something entirely different than it is. I have been delightfully surprised. It is not a brash, in your face, let's take over the world and convert everyone or shut them up kind of book.
It is a reminder of how Jesus led and lived in a world that was contrary to God. It is gracious and merciful and encouraging.
I am loving the Jude study. I have mentioned before that I recommend to everyone to follow both Jackie Hill Perry and her husband Preston Perry on Instagram and listen to what they have to say about matters of the gospel, applying God's word to our lives and also just their perspective on issues that are trigger points for controversy in our day and age. Her teaching is pushing me to open up my Bible and do some serious STUDY and I LOVE IT!!!
I am taking the Jude study at our church through the Women's ministry but you can always rent or buy the video teachings through Lifeway.
Okay…that's it for me.
What are you reading?
Are you a slow or fast reader and do you mark up your books or take notes?
Would love to know …