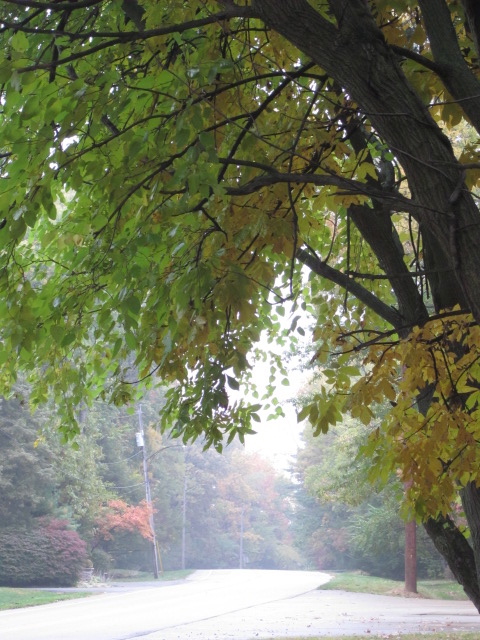 Hey all…this picture was one of my first ones every on a blog post.
It was my view when I would take my daily walks over on the east side of this town we have called home for 40 plus years.
I used to carry a little digital camera with me and snap pictures because we didn't have such technology as a marvelous camera that also multitasks as a phone, computer, GPS, notebook, clock, calendar, step counter and address book.
So since I am being all nostalgic, we will kick off the randoms with:
#1
This is the birthday month for Journey Onward <3
My first post went "live" on October 11, 2013 and you can check it out here… https://www.laurareimer.net/wp-admin/post.php?post=4&action=edit
At that point I had not figured out how to insert photos and only a couple of people even knew I was doing it. When I look at the number of posts published today , it is 1,915. Wow…I have walked through a few learning curves and it's been something that I am so very grateful to have been given the resources to do.
I have been blown away over the years by people I didn't even know read it telling me thank you.
For me it is a thank YOU.
Thank you for checking out what I have to say and for the positive feedback and sharing of thoughts that my words might have stirred. I had hoped to reach empty nest moms like myself but God has used this little Journey to reach others I never would have dreamed of sharing my thoughts with.
I am deeply grateful for the readers over the years who have taken time to sit and listen to me for a few minutes.
Which brings me to….
#2
Yesterday I put a post out there that was a bit beyond my usual policy to keep this a safe zone from controversial topics.
But it was just burning in my heart and I have found that when I can't not say something and I have prayed fervently not to have to say it, it is usually something that God would like me to stretch myself to say.
I received several thoughtful comments today from some of you and I am not posting them because I feel each one was very much just a personal sharing of your own musings on this topic.
But I want you to know…and you know who you are…that I read them and took them to heart and I hear you.
I am praying for you and for me as we navigate what it is to speak the truth in love and to not shrink back, but to also not be purposefully offensive or confrontational EVEN IF we are perceived be just that.
Thanks always for reaching out and remember…I try and discern if a comment will benefit others or was just for me.
Your thoughts are safe here <3
#3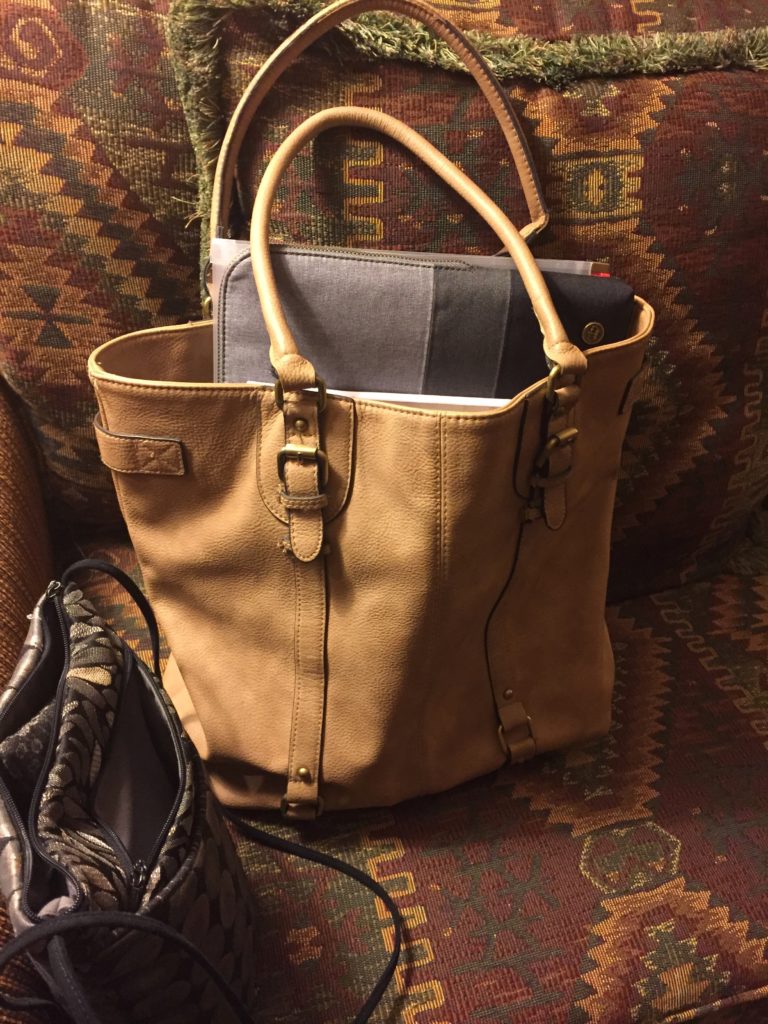 Back to the blog anniversary thing, every year since 2013 I have prayerfully thought how to add to or grow in some area of the Journey.
In the past I have attended two She Speaks conferences hosted by Proverbs 31, two Declare conferences, added sharing posts on social media, starting an email list, written a "Deep Healing" pdf for you to print off and this year Russ encouraged me to try another conference.
So this Friday I will be traveling to one in Colorado Springs called The Pen and the Page.
The setting is the Glen Eyrie Castle…which sounds like I need to delete a few thousand pictures from the 11,235 currently taking up space on my phone…because it looks beautiful.
I am excited because this conference is different in that it is more about actually writing than about what to do with your writing to get it out there.
I would most appreciate your prayers for God to really move in this time that I have been given to hear His thoughts on what I might be able to write that would speak His heart better to those who read these words.
Thank you in advance.
#4
I know I shared my reading list for October and it was limited, but I ended up adding a book to read right before bed.
My mind spins too much and I have to be careful what I put in right before I fall asleep so I picked up one I was gifted a number of years ago called A Simple Blessing by Michael W. Smith.
In this book, written in 2011, he talks about how he started praying a blessing over the audience at the end of his concerts and the impact it had on them and on him.
One of the chapters talks about how we have gotten the idea of "blessing" wrong. We tend to think that blessing is material prosperity, personal abundance in the things that matter to us including relationships and career happiness, and a complete absence of loss and suffering.
He talks about how many people have come to view church attendance and it was eye-opening as well as convicting:
"Church often becomes an adjunct to help people meet the needs and solve the problems that arise from rejecting God's standards and living by the standards of the culture around them.

Or, in many cases, church is used simply as a respite from the daily grind of the week. The Sunday morning worship hour provides a spiritual oasis in the desert of secularism. A sort of spiritual recharge to get people through the pressures of what's ahead."

Michael W. Smith A simple Blessing pg 33-34
He goes on then to say that the church and coming together for worship and learning was never supposed to be about what it does for ME.
Our natural tendency is to be somewhat narcissistic and he points out that means we tend to engage and interact based on what the whole things means to US. What will I get out of this or that experience or interaction?
But he directs the reader to Paul's teaching in Romans 12: 3, 10 that we are to strive to NOT put ourselves first, but others first. That we are to be devoted to one another and honor one another.
It is a great reminder to me that the music and the sermon and the fellowship in the lobby are not about me and what is pleasing to me, but about belonging to and encouraging and edifying the whole body of Christ. It is corporate worship and corporate learning and corporate sharing of the eucharist that make up the essence of "church"….good reminder.
One pastor I like to listen to refers it to "facing outward"…we come to church looking to others and how we can engage with them to encourage or show care or come alongside in this life path we share.
These are good reminders for one like me who tends to be introverted. I seek out the company I already know and those who make ME feel good…instead of asking God who I can bless.
and finally….just for fun…
#5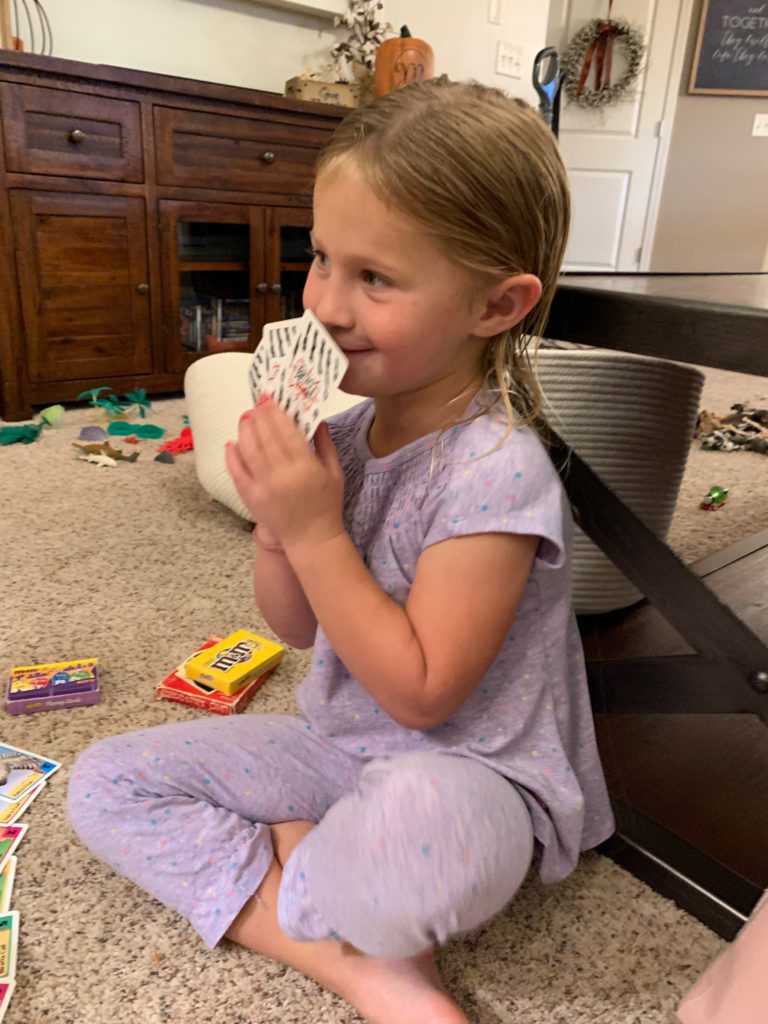 This little cutie figured out how to play her own hand at Go Fish last night.
Joel asked me if I had a zebra and I didn't.
Sis chuckled and innocently said he should have asked her.
I thought…oh…how sweet…she doesn't even know…but oh…she did.
I snapped this picture just before her turn when she wisely asked her brother if HE had a zebra…have mercy.
Why does stuff like this just make me laugh for days?
Oh well…here's to card playing fun and laughter.
I may have needed a crane to get me back up on my feet when we were done but it was the best. game. ever.
Hugs to all !