Well, I just waved our boy off to head home. And as usual, I was a puddle. I try not to be, but it happens every time.
We had a great weekend celebrating his birth with family and friends, all the while attempting social distancing
which is next to impossible when Uncle John and Tia are in town…but we tried, honest we did.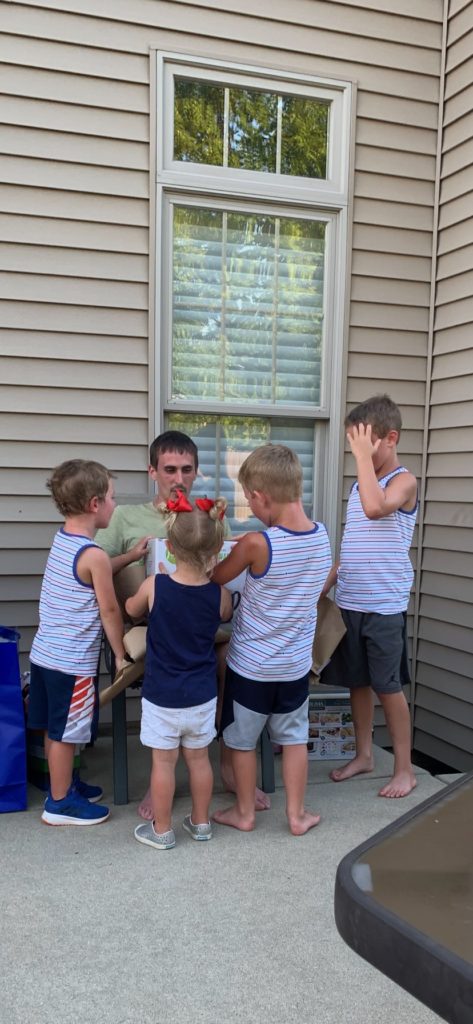 I shared a bunch of pictures of some of the festivities on Facebook so am jumping to a devotional thought.
Because we all need some directions and encouragement and that's what is on my heart this morning…besides wiping tears away and such…
This morning I want to share a little something gleaned from my reading in Isaiah.
Today's reading started with double trouble for Israel, but rolls into the part of the book where you can hear the music hit the crescendo heralding God's promises and the coming Messiah.
It starts in Chapter 36 when the King of Assyria is attacking Judah and all the fortified cities.
He sends his royal spokesman to the gates of Jerusalem with a message for King Hezekiah.
The pronouncement is shouted out asking King Hezekiah how long will he and his people trust in God to rescue them. 
The rant is loud and goes on and on with words of discouragement and examples of other Kings who placed their trust in their gods and what happened? They were soundly defeated. 
Deals of compromise are offered and one assurance after another of certain failure is predicted for anyone who remains loyal to King Hezekiah and God.
The officials of Judah request that this messenger speak in Aramaic, a language they spoke but the people of the city and the guards on the wall did not speak.
But the enemy of God continued to declare this barrage of discouragement in Hebrew so that fear and doubt would strike all the people hard.
This is the first time I have read this passage in the Bible I am using for my annual read through, so I got my pen and I marked up the margins with the same thoughts that I get every time I read this….
The enemy discourages us in our native language. He lies to us in words that are familiar and ways that we can understand. He lies to us with offers of compromise and with the age old deception…"Did God really say__________?"

my bible journaling <3
As I read this description of the exchange going on, I marvel at how the people responded.
They respond with silence.
The King had commanded them, "Don't answer him." And they didn't. 
So again I pen the words of my understanding of how to apply this passage to modern battles with the voice of the enemy trying to discourage and dismantle God's plan…
Don't engage with the enemy. 
They also responded with signs of distress and mourning and grief, and in Chapter 37 Hezekiah took the threats written down on paper and laid them before God and prayed.
Another strategy for this kind of attack: Take everything the enemy is saying and bring it right out in front of God.
The rest of the chapter outlines how God responds to Hezekiah and the people of Judah and how He works in a mighty way to end the siege against them.
We have an enemy bent on destroying the children of God.
He is not a human, but he works through humanity and sometimes we get it mixed up. We forget that our enemy is not flesh and blood and that our weapons are not the kind we use with our hands and our mouths.
The weapons of our warfare are mighty in God but we can use the same principles involved in this attempt to deceive, discourage and defeat the Jews in fighting our battles today.
Recognize the lies that come to you in familiar and understandable language but do not line up with God's Word
Do not engage in arguments, corrections and shouting matches with the devil.
Take what is being said and all the feelings of fear and anxiety they are prompting and lay it out … literally write it out on paper… and lay it before the Lord and then humble yourself and be silent and listen.
If He gives you a direction to take, take it. If He says He will take care of it, trust Him to do it.
Know Him. Know His heart and then be found faithful in all things.
Acknowledge the "facts" and then declare the TRUTH
Here is the prayer of Hezekiah found in Chapter 37. It is a great example of how to pray when feeling discouraged and tempted to doubt:
LORD of Armies, God of Israel, enthroned beneath the cherubim, You are God – You alone – of all the kingdoms of the earth. You made the heavens and the earth.

Listen closely, LORD, and hear; open your eyes, LORD, and see.

Hear all the words that Sennacherib (the King of Assyria) has sent to mock the living God.

LORD, it is true that the kings of Assyria have devastated all these countries and their lands.

They have thrown their gods into the fire, for they were not gods but made from wood and stone by human hands. So they have destroyed them.

Now, LORD our God, save us from his power so that all the kingdoms on earth may know that you, LORD, are God – You alone.

Isaiah 37: 16-20 CSB