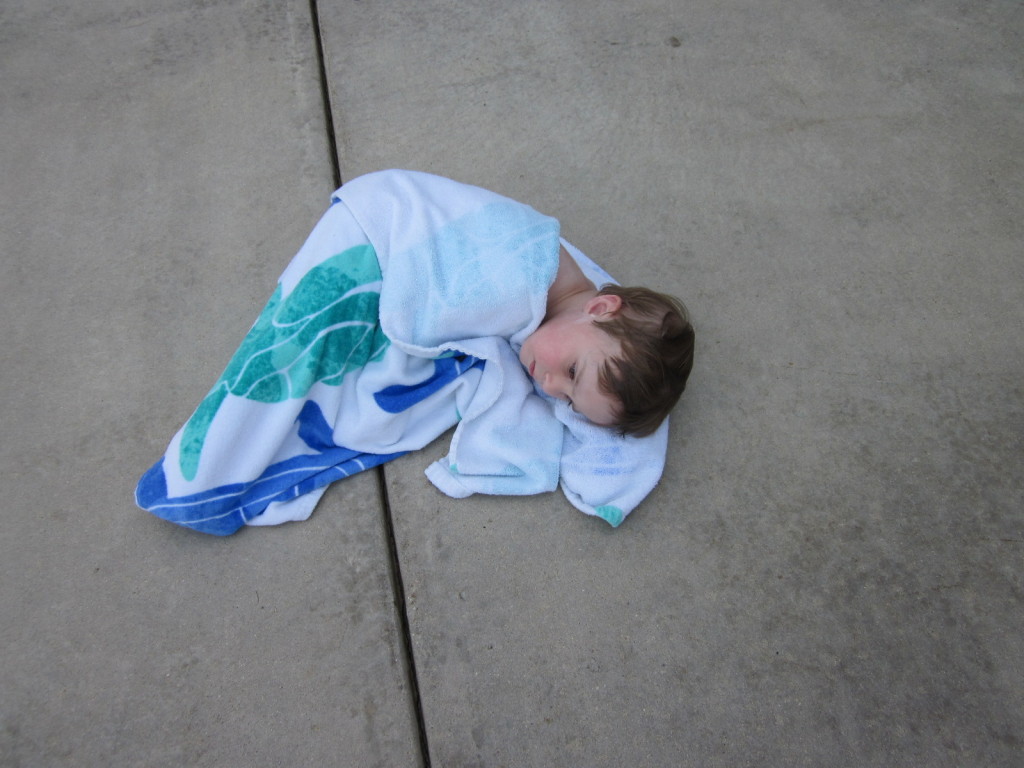 Ok…I don't want to wish summer away…but my goodness…help me…
I ran into a neighbor tonight trying to take his little guy for a walk in the wagon. We chatted a bit, but our irritability from the humidity and frustration with the weather was the driving force of the whole conversation.
If it isn't raining, it's a sauna.
The sky changes as fast as my attention span. One minute it is filled with gray, thick clouds and then …. little puffs and wisps of cotton float across endless blue.
And don't even get me started about the animal control issues as ground hogs and raccoons graze on the lush vegetation around our shed.
So it seems like summer is already wearing thin and it has barely even gotten off the ground…which has me desperately trying to grab hold of what's good about summer and what I don't want to miss by wishing it away….like…
watermelon and cantaloup and berries of all kinds…
grilled food and corn on the cob and s'mores…
longer hours of daylight so you can take a walk after supper or sit on the porch…
a glass of iced tea or lemonade or ice tea AND lemonade(let's hear it for the Arnold Palmer)…
hmmm…it would appear all my summer thoughts center around food so, naturally this makes me think of how maybe you have been looking for a way to squeeze in a summer Bible Study. (You probably knew this would come up, right?)
I know our church is not offering the usual women's ministry study this year,  but that doesn't have to stop you!
Here are some ideas:
* My sister-in-law decided to break in their new screened in porch by offering to lead a study of Lysa Terkheurst's "The Best Yes". She put a notice in their church bulletin and hosted 15 ladies this week for the first session.
If you have the space and a book you are interested in studying, pray about how to get the word out/who to invite, where you can meet and take a step of faith to get the ball rolling!
* Several friends have sought out studies going on at a different church than the one they attend regularly. Ask your friends what they are studying at their church and join in with a new group for the summer.
* Do a study with just one or two close friends. Kelly Mitner has some great ones called The Living Room Series. One of you can purchase the downloads and just use an iPad or Laptop to watch as part of your sharing time each week.
* Do a study with your spouse and/or your teens. Pick a book you would both be interested in reading and discuss a chapter at a time as you sit on the porch or take that evening walk.
*If you have younger kiddo's, consider a way to have your own mini-VBS…partner up with another mom…and if your super brave, include a few of your children's friends….don't throw anything at me, ok…I DO remember those days, but sometimes more is less when it comes to kids.
* Use one of those many books that might be lying around just waiting to be read and let that be your "study"…to actually finish it!
* Connect with your small group from the past year and agree on some book of the Bible to read. If you are on social media, use the conversation area or make a new group and share what you are learning with each other.
*Listen to some of the great teachings out there from solid churches…use your morning walk to listen to a podcast. A few I enjoy are, Firstdecatur.org (of course), Eastview Christian Church, Harvest Bible Church…but there are so many.
Whatever you do, don't let the lazy days of summer slip past without finding time to grow…