One man's elephant is another man's treasure….
A "Looking Back Post…originally written December 20 in 2012..
This past weekend, I attended an annual Christmas party with a group of long time friends.
One of our traditions is a white elephant gift exchange. It's the kind where you can steal someone else's gift or take a new one from the pile.
When one of the men in the group pulled a bedraggled vase of well worn artificial flowers out of his chosen bag, we all got a good laugh at his puzzled expression and his comment that he was pretty sure he would be taking this prize home at the end of the evening.
Several participants later, one of the ladies in our group used her turn to steal this sad floral display from him.
We all laughed again at his response of delight, and credited her with a generous heart toward him.
But as we moved on through the game, I noticed my friend working lovingly, patiently and diligently to unfold the bent flowers.
She saw something none of us had seen.
As she coaxed fake evergreen stems into new life, opened up crushed poinsettia flowers and readjusted the white glittery sticks into artistic curly cues, her face seemed intent on the emerging transformation.
As I was gathering my own things at the end of the evening, I saw the finished product sitting with her things.
It was beautiful.
No longer a white elephant, this was worthy of display in the finest of settings.
Isn't that what Christmas is about?
God sent His Son to take what's been trashed and turn it into a treasure.
For I was once a crumpled piece of junk, but God saw in me the beauty He had intended and He sent His Son and rescued me.
With loving hands and great intent, Jesus continues to straighten and align and unfold the beauty of His handiwork in me.
And someday, He will present me, as a display of His Splendor, before the throne of God.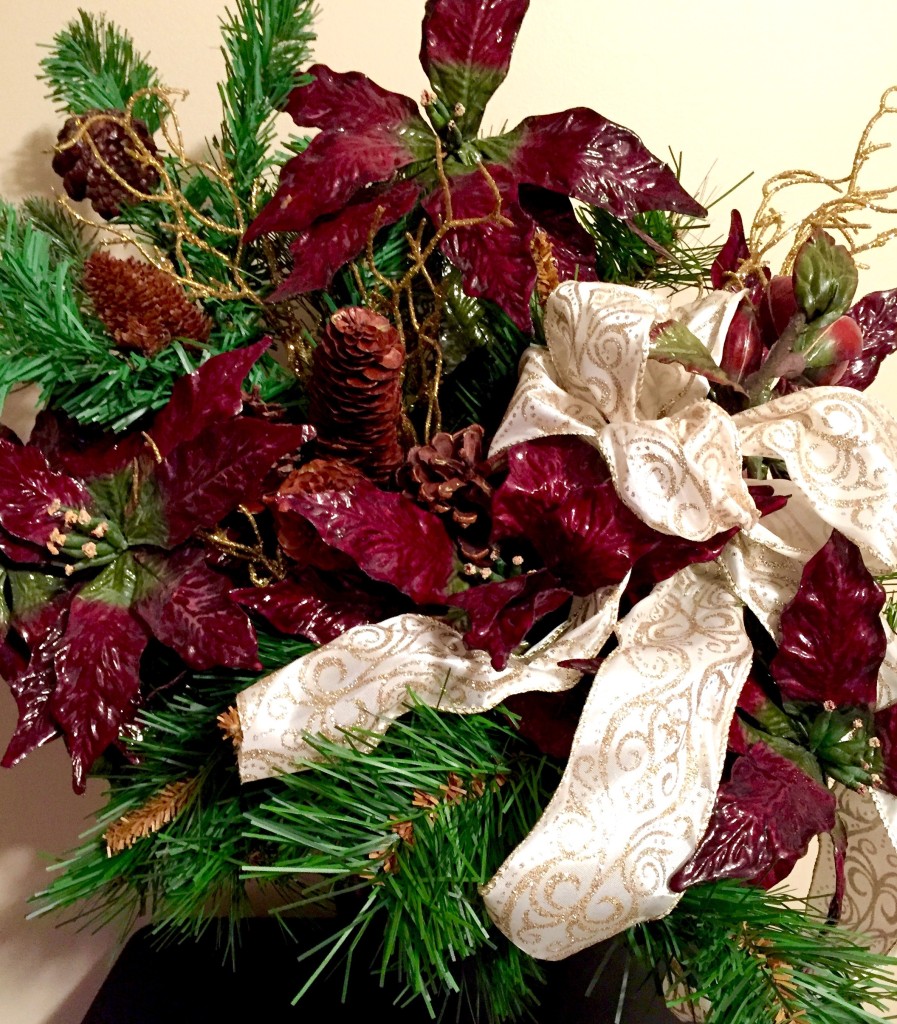 Blessings on you as you celebrate the birth of our Savior, the Author and Perfecter of our faith.
And as a side note…in December 2013 I was given the gift of this lovely resurrected Christmas treasure from my dear friend who has her Father's eyes <3