Some bubbly fun to start the week <3
I mentioned in one of my randoms about some water bubbles that Caroline kept telling us were her favorite activity at preschool.
I googled them and discovered you could purchase on Amazon, so I ordered some to try.
I may have taken a picture of the full jar, but it is buried deep and I have enough others to share. They looked like small beads like you would string on a necklace.
I googled several YouTube videos about how to use them and I followed those as the package offered zero instruction. So here is how it worked for us and some thoughts about them in case you are interested in looking for something fun for your kiddos or grands this summer.
The tutorials said they would take 24 -36 hours to absorb water. They could have used more than 36 in my opinion. I started with these two Rubbermaid Storage containers like you would put cookies in – maybe 9 x 13.
This was after about 24 hours. I would keep adding water and stirring lightly with my hands.
After 36 hours, the kiddos were coming and I moved them into three bigger containers with more water. I gathered all kinds of things to use to strain and lift and sort. I had seen these on the videos.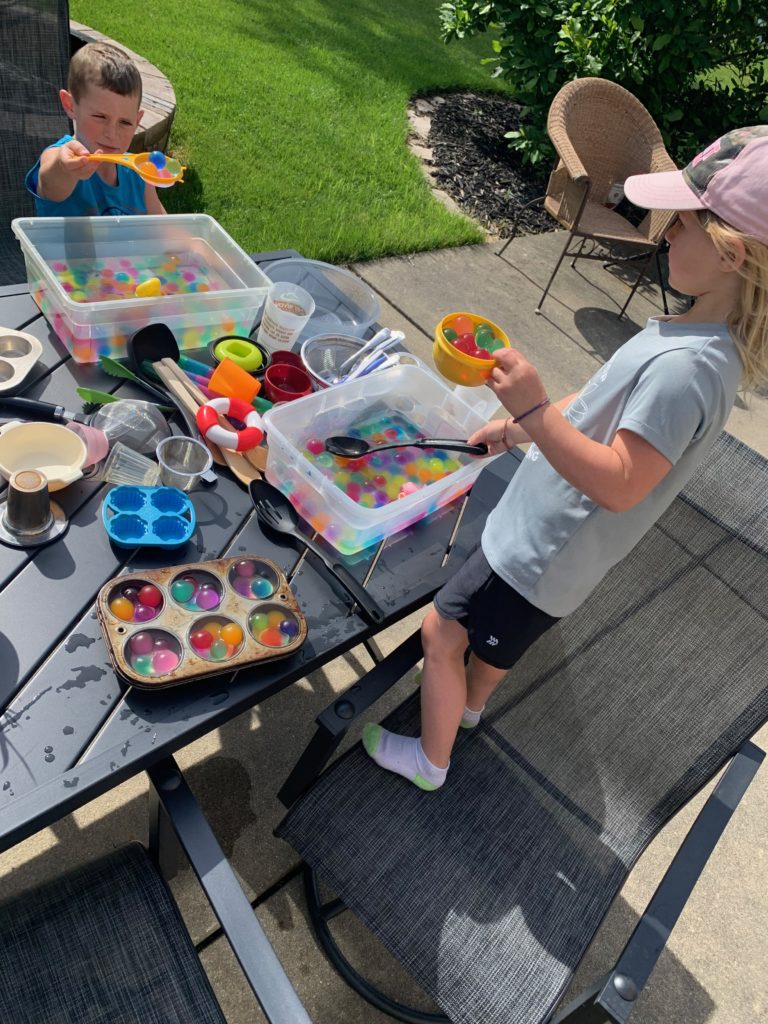 The kids did enjoy them. The bubbles are fun to touch and they played for over about two hours with them.
Graham was at camp, but our three aged almost 5 – 9 had a grand time. And yes, we are standing on rocker chairs to play. Because we can turn even bubble play into an Extreme Sport Experience.
This next picture may look like the past two, but there is a purpose to it and a tip for you:
Note the Rubbermaid container in bottom right that has "goo" in it. This was where broken or squished balls went. Caroline couldn't resist squeezing them into this goop. I was not a fan of this, but I think it is part of the event and you should have a place for squishing.
I had read that once you are done playing you can set them out to dehydrate and then put back in jar to use again.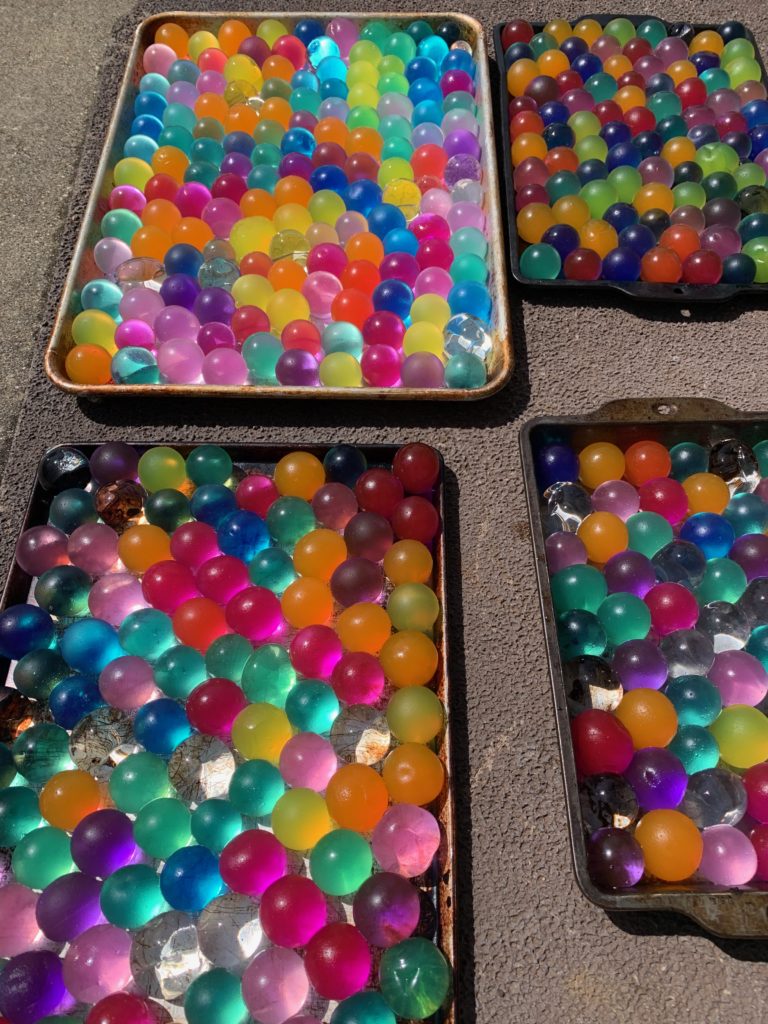 We started with them on cookie sheets but there was no dehydrating party going on for several days…so I moved them to a towel….
And then another towel … day after day for too many days. The towels were always very damp, yet the balls were still very full of liquid. Some were starting to get spots so I would pitch.
The pictures of the two beach towels were taking a week apart and you can see there was not much change.
I finally just threw the whole mess away.
So here are my pieces of advice:
Plan ahead to do this and they really would be okay if you hydrating them and then just transported or stored in a container as they are.
If I had this to do over, I would have put them all together in one container and kept hydrated, drained the water off when we were going up to see them and let them play with them again for as many times as they lasted and then pitched.
I think if you can get two hours of play out of something, it's a win, but I would definitely make sure you use them over a time frame where you can maximize them.
These were developed for the floral industry so I also think it would be a cool spring thing and then you could use them in your potted plants out doors when you fill them for summer.
When I bought these, I paid $9.99. Currently they are showing $12.99. I would not pay that much. There are quite a few options for these if you are interested, but definitely shop around! Here is the link https://www.amazon.com/dp/B071SKSTRM?psc=1&ref=ppx_yo2ov_dt_b_product_details. And to be clear, I am not getting any kick back for your purchase…just trying to make it easy for you.
An unusual post, but I hope you find it helpful. These are great sensory for the kids and quiet and fun play that made for a nice morning <3