State of the Retirement – One Year In <3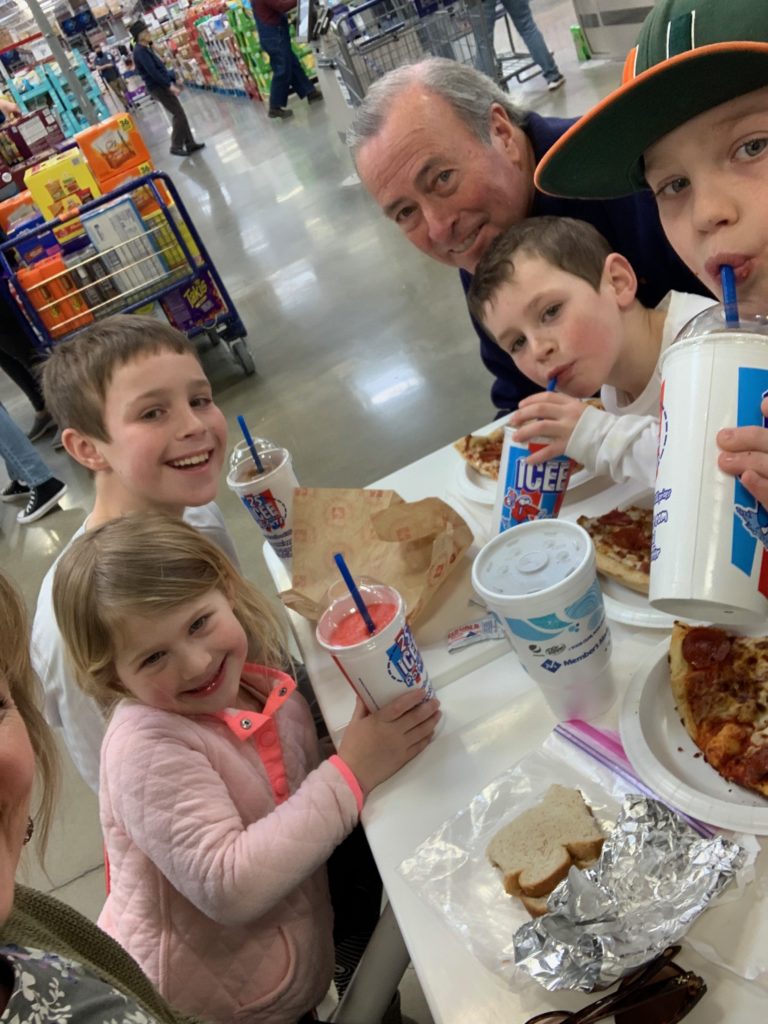 Hey and happy Friday!
It is a special day here at our house as we celebrate the one year anniversary of Russ powering down his work computer and adding a message prompt for any emails that might come his way, directing them to the team that would be taking over what he did so well.
I wasn't sure how it would go.
I should have known.
Like everything else he has done in the years since I first met him, he has entered retirement with grace, style, service, kindness, humility and adding fun and laughter for all of us.
Case in point, last Tuesday he took us all to Sam's Club and gave each kid $3 to figure out what they could buy for lunch. It was a mini-math and economics lesson and they never realized it.
They can't get close enough to him and our biggest problem is figuring out who got to sit right next to him the last time.
I had been hoping he would do a year in review post and my prayers were answered when he asked me last week if it would be okay for him to share some thoughts. So without further ado, here is what he shared with us <3
From the desk of Russ Reimer, CEO and CFO of our family and Cruise Director for the retirement years
(I wrote that title part, not him =0)
Good morning,
I am not a person that journals on a regular basis but once a year isn't too tough of a schedule. I asked Laura if I she would allow me to share some insights after one year of not working.
Nothing profound, yet a look back as to what the last twelve months have meant to me.
Having worked for the same large company for nearly 40 years and making the decision to leave provided me with much worry and concern.
I was concerned if I would be content without the daily interaction and challenges that a person in the big business world faces.
I was concerned if we were set up financially.
I was concerned that I would drive my wife crazy(or vice versa!).
I was concerned that I would be able to live in a daily ritual of more solitude than I had ever faced.
I was concerned that as my Circle of Influence got smaller, I would shrink into an endless abyss of feeling sorry for myself.
Scripture helps us in these times.
Matthew 6:25-34.
Philippians 4:6-7
My year has been filled with new adventures.
Travels to Missouri, Colorado, Florida, Texas,Wisconsin and Tennessee have been such a blessing and I saw life through a new and different perspective.
No longer tied to email or the cell phone for work related issues has allowed me a more relaxing setting when away from home. Plans for additional travel in these next 12 months is exciting and I know that we are very fortunate to have these opportunities.
I have learned a new sport(pickleball) and resumed one that I love to play(golf) even though my skills are not the greatest.
I have walked more, I have listened to more podcasts, I have read more books and I have been able to spend more time with my wife.
I have met new people in my town that I had no knowledge of but now I see them on a regular basis and I enjoy their company. I miss them when I don't see them. I wake with a desire to start my new routine and find that the weeks fly by without boredom.
Helping LJ with grandchildren has kept my weeks filled with activities.
They have blessed me with their desire to learn and to find their way during an unparalleled time of Covid craziness.
Home School, ball games, interaction with other children and seeing your grandchildren saddened when they lose a game or when a friend moves away are a microcosm of our adult lives.
While you think the very early years are important in a young person's life, each year brings new situations and more life-learnings. They have worries and concerns; however, their parents are bringing them up with God in their lives so they have that base of security. I know that I am fortunate to have an active role in each of their lives. I encourage each of you that have grandchildren to pray for them daily. Don't ever stop!
I have experienced loss through death of friends who are my age. Unexpected death is not pleasant for any of us and my heart aches for those that are walking through it.
I have seen a very close friend walk through a cancer situation that could have turned out very differently and am grateful for the good outcome. I have gained a ready awareness of how quickly life can change for those around you. I have drawn closer to people that I considered friends but we are now much closer in our trust of each other.
I do miss my former colleagues that I consider my friends.
To them, I will be forever grateful. Without them, my work life would have been dull and unexciting. I had some wonderful opportunities to travel and learn a business that is vital to our world.
I always worked with an attitude of being a resource for those around me. I continue with that effort in my new responsibilities and in my volunteer life. Working in the church kitchen behind the scenes is rewarding and one that I am grateful to be a part of.
It has certainly been a year to reflect on how God has worked in my life.
Many people have said prayers for me during this transition and I have benefitted from these. I am very grateful. I have kept this advice in mind as I walked through the idea of not working: "My job is what I did, not who I am."
We all know that work is very important to the success of a person; however, when it ends, you must prepare for the next set of responsibilities.
May God bless you and keep you as you all navigate an unusual period of time that God has placed us in.
Keep your head down and follow through!!
P.S. I must admit that I greatly enjoy wearing athletic shoes and athleisure wear on a regular basis!
Russ