The beginning of Lent and I was caught unawares….sigh….hello 2021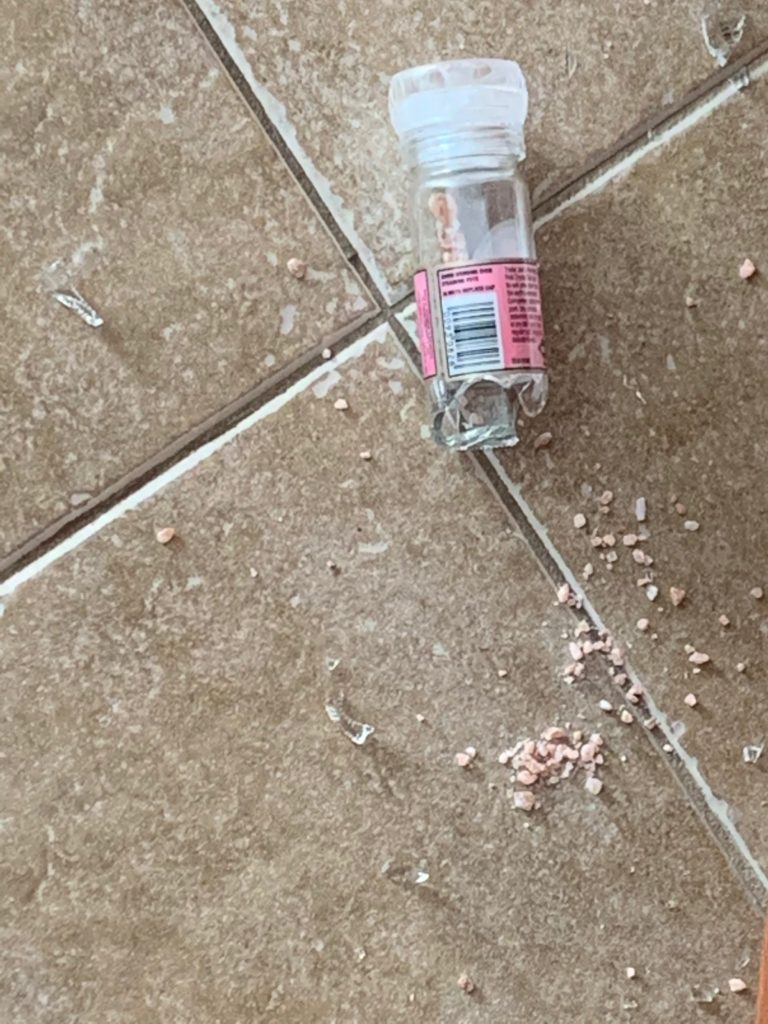 Life lately.
This happened just as I was finishing up the soup and sandwiches for our lunch on Wednesday.
I was barefoot, of course, so had to carefully back away and go find flip flops by the garage so I could start the process of clean up.
Glass went everywhere and we are still finding pieces even though we have vacuumed and swept and wiped up multiple times.
And in the grand scheme of things, it didn't even phase me.
Between Covid/Covid vaccine updates, monitoring the weather in Texas where our son and apparently half the relatives and friends of everyone we know seem to live not to mention our own Snowapocalypse and a number of changes we are navigating…what's a shattered salt grinder underneath your bare feet at lunch time?
But have mercy, later in the day when I was taking a break from life and scrolling Facebook, there I find a beautiful devotion and information regarding Ash Wednesday services at the Lutheran Church near our home and I pretty much lost it.
Broken glass all over I can handle, but starting Lent in the solemn quiet of a church service is something I consider a deep loss.
I am shocked and embarrassed that somehow I lost all track of time and missed that we are that far into the liturgical calendar.
I grew up in a home where Lent was observed every year and it is a season that I have always been intentional to observe with soul searching and reverence.
And somehow in spite of all the references I have seen to events associated with Mardi Gras, I completely spaced off that we are here.
It has been almost a full year of life in a pandemic and so it would seem I am still struggling to figure out how to do the usual things in unusual ways.
So I would say our Journey through Lent 2021 will reflect that, but I hope you will join me.
Let's see what God would say to us as we open our hearts to meditate and ponder Him more during this season of moving toward the celebration of the Risen Christ on Easter Sunday.
We have forty days…surely I can get my act together in the next few to make each one count.
Blessings <3