One of my favorite and most tolerable forms of exercise is walking. I prefer walking outside but since we pay a monthly fee to the Y, I will walk the track if I have a chance to go there with Russ when he is doing his routine.
His routine involves using machines and weights and well…all of that is a lot for me to remember. Not to mention that sweat and exertion factor.
So I listen to a podcast and walk.
Walking is simple…I have been doing it for many years.
And the directions are clearly marked on the walls….signs are posted for which direction traffic goes depending on the day of the week. Sunday is dealer's choice so I get to pick if I am the first one or go with the flow if others have gotten there before me.
There are other helpful rules like don't spit and children under 1 needed to be accompanied by an adult…I think that may be a misprint….
For courtesy purposes they also provide these guidelines….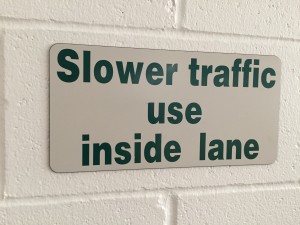 Since I am a walker, I always take the inside lane…
the lane that is INSIDE the building closest to the center of the room…leaving the outside lane…the lane next to the wall…the lane furthest from the center of the room free.
Every time I have ever been on the track with other people, they do the same thing. Runners always on the longer, wider "OUTSIDE" of the track lane…
Until last Sunday.
First a girl that was walking sooooooooo slowly meandered around what I considered to be the outside lane so I kept passing her from the inside…I am a rule follower so this was painful…
She didn't seem to mind as she was fidgeting with her phone and seemed to be oblivious to me passing her repeatedly. Finally she left…
and then a runner came…and he ran and ran … in what to me was the inside lane. He would make a swath around me each circuit and then get back in the inside lane…
which made me begin to question…maybe all along I have been wrong.
Maybe everyone else who has been walking and running every time I have ever used the track is wrong too…maybe this guy understands the signs and we don't.
Maybe the "inside" lane is the lane closest to the wall and the outside lane is the one nearest the center….
I was so confused, my head was starting to hurt but I had a feeling there was a blog in there somewhere so I stopped to take a picture of the signs and then I heard the voice of reason. Or maybe it was Russ….asking me what on earth I was doing….
I told him about the runner and I pointed to the signs and I began to engage him in a philosophical discussion of this new possibility that I have been doing it wrong all this time…
With the confidence of a man who has spent many more years in a gym than I have ever dreamed of doing, he assured me that the outside lane of a track is the farthest one from the center.
Case closed. Doubt answered. Keep walking.
One of the issues we have discovered in our discussions in the Room for Doubt series is that often doubt enters in when someone else or many someone else's sow seeds of doubt into our beliefs.
We can't live in a bubble safely protected from anyone who doesn't believe what we believe….and if we have honest questions we need to feel free to ask them….but I do wonder if we sometimes let other people influence us far more than we should.
The runner that threw me off looked more athletic than me. He had all the right gear, the physical appearance of someone who has much experience running on tracks and so I assumed he knew more than I did. And so I questioned something that I have known to be true…and when Russ pointed it out to me I remembered why I know which is the inside and outside lane.
Of course it doesn't really matter in the grand scheme of things which lane a couple of weekend exercises use at the Y.
But it matters very much if we allow challenging questions and doubts to move us into unbelief.
I affirm again what we have learned in this series…approach your questions about faith from the position of one who loves truth…not one who loves questions and doubts.
When you are seeking answers about your faith, go to the Source of your faith…or you might…you know…
get off track <3
Have a blessed weekend!!!