A special tribute … AND A GIVEAWAY!!!!!
Our sister-in-law sent us some pictures this week of a book we made for their son's first grade class project for Flat Stanley.
That little guy is now….gulp…a sophomore….
in…
college…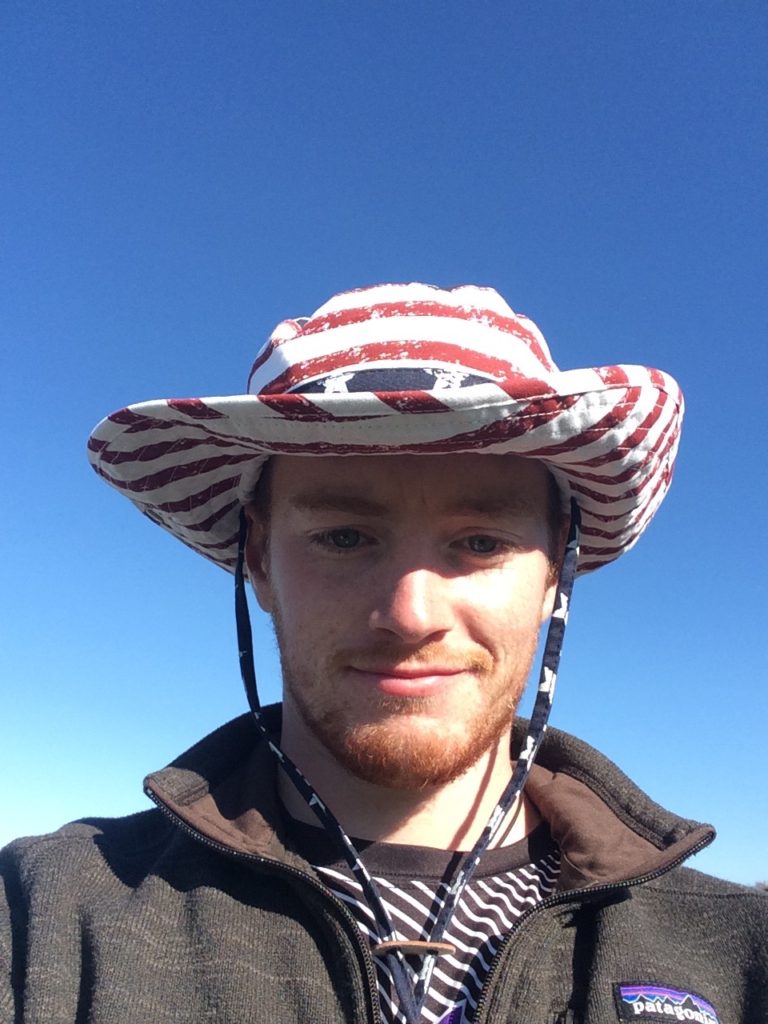 I totally forgot we had once taken his little paper cut-out self all over town ….
because I was kind of busy back in those days.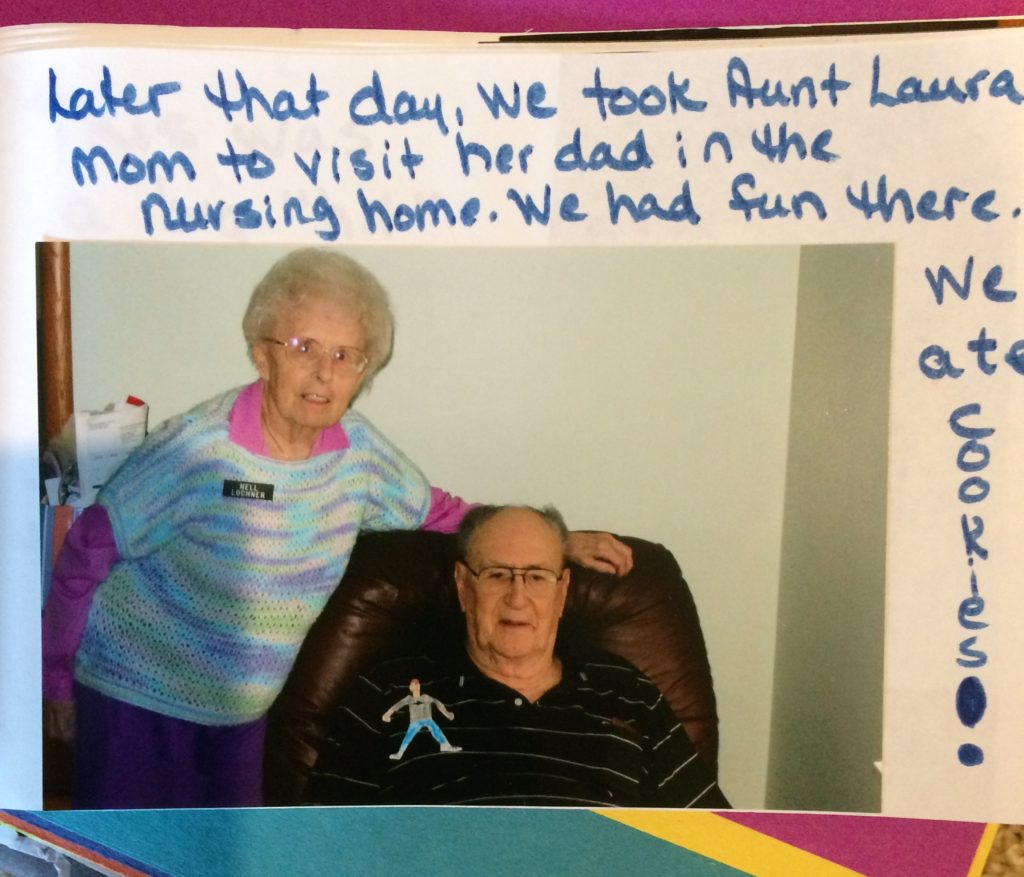 It was 2003 and while we toted Flat Stanley around the hot spots of Soy City…
we didn't know we were only at the very beginning of what would be a seven year trek through our personal encounter with Alzheimers disease.
We had already been down a long road and God, in His mercy, took us step by step the whole way.
I think it was kind of Him to not let us know exactly how long the journey would take but instead met us right where we were each day-after-long-wearing day.
But we had it better than so many.
My dad was 85 when we had to admit him to nursing care.
We had some laughter amongst the tears and some tender moments that only God could orchestrate.
I count it a mercy that I dealt with that in my mid-forties, thanks to being the child of older parents.
We were in a place in our family where the hopes and dreams, inspired by our still full nest, kept me sane in the midst of the trials of losing my dad to this dreadful disease.
I admit that many a day I would look at our kiddos and place my hand on my own head, praying fervently that God would keep me sound of mind and spare these dear ones of ours the heartache of dealing with their own mother slowly fading away someday.
I still do that from time to time, especially when I forget an important event or struggle to remember not only a name, but also the face to go with it.
Such is the fear of a child of an Alzheimer statistic.
That's why I eagerly support any effort to raise funds for research to help discover God's healing through prevention and medication that He has provided.
And right now, our local Walk to End Alzheimer is holding a Lasagna Dinner fundraiser.
It's easy-peasy to participate…and here's what you can do:
By leaving a comment, sharing this post OR signing up to receive the blog by email…you will be entered into a drawing to win….
TA!DA!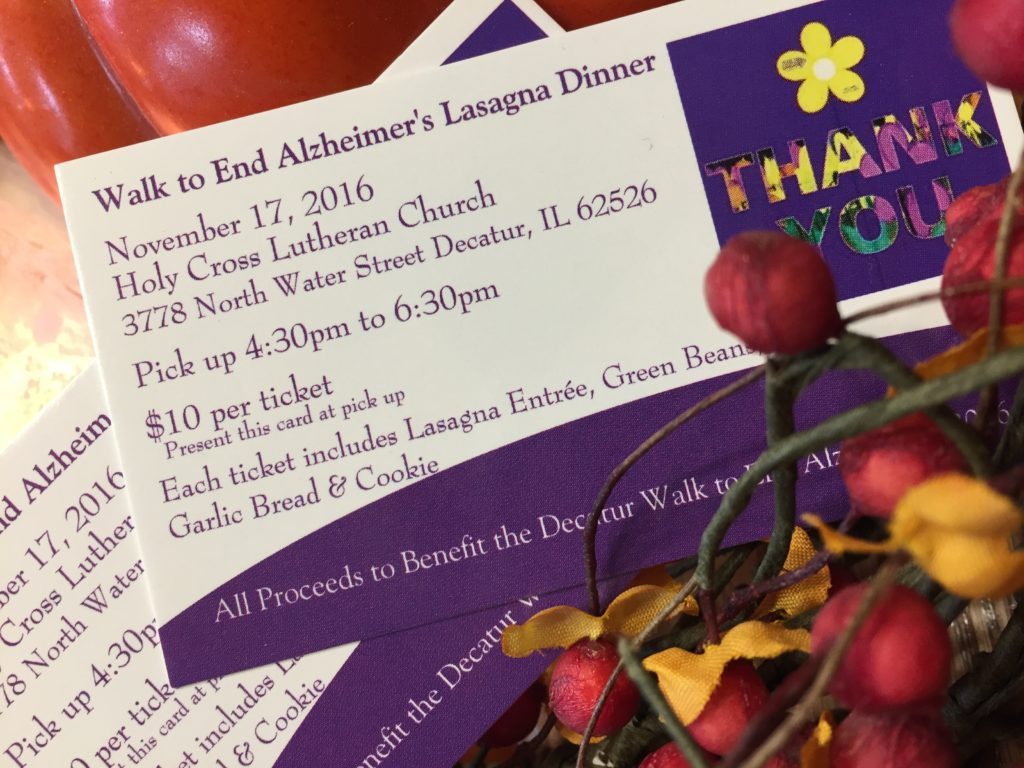 two tickets from Russ and me to you <3
*for obvious reasons….make sure you can actually USE the tickets…so while I HOPE to hear from ALL of you…only those within driving distance will be entered in the drawing <3
2. I also encourage you to consider purchasing tickets…
as well as spreading the word about the fundraiser.
It's a win-win as you get a good dinner and more funds are raised to find answers to this disease.
You can buy  tickets for $10 by contacting Carol Smith at 217-422-1877.
Dinners will be ready for pickup between 4:30 PM and 6:30 PM at Holy Cross Lutheran Church on Thursday, November 17th.
Drawing for the two tickets will be this Friday afternoon…
so make sure to…
either….
enter your  comment
and/or
 sign up for the email
and/or
share the post
by noon Friday <3