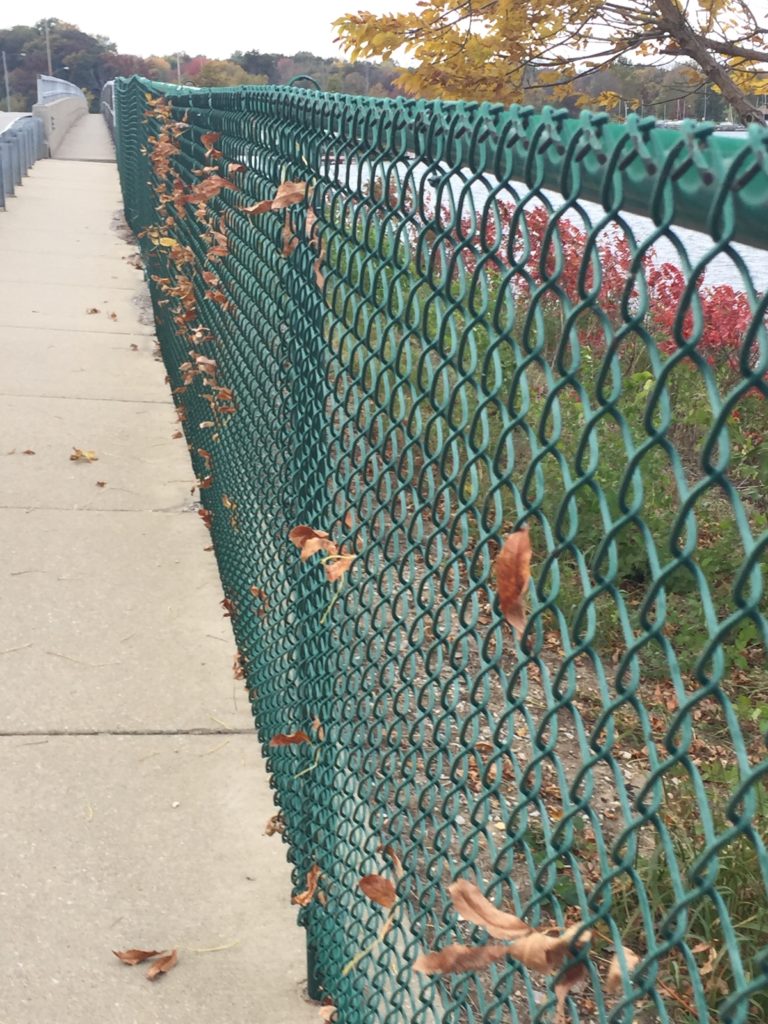 One of the reasons God is so faithful to help us through rough times is so we can encourage others when they are suffering.
If you missed yesterday's post, this will make more sense if you check it out…
so we will wait for you.
Ok…
now that we are all on the same page…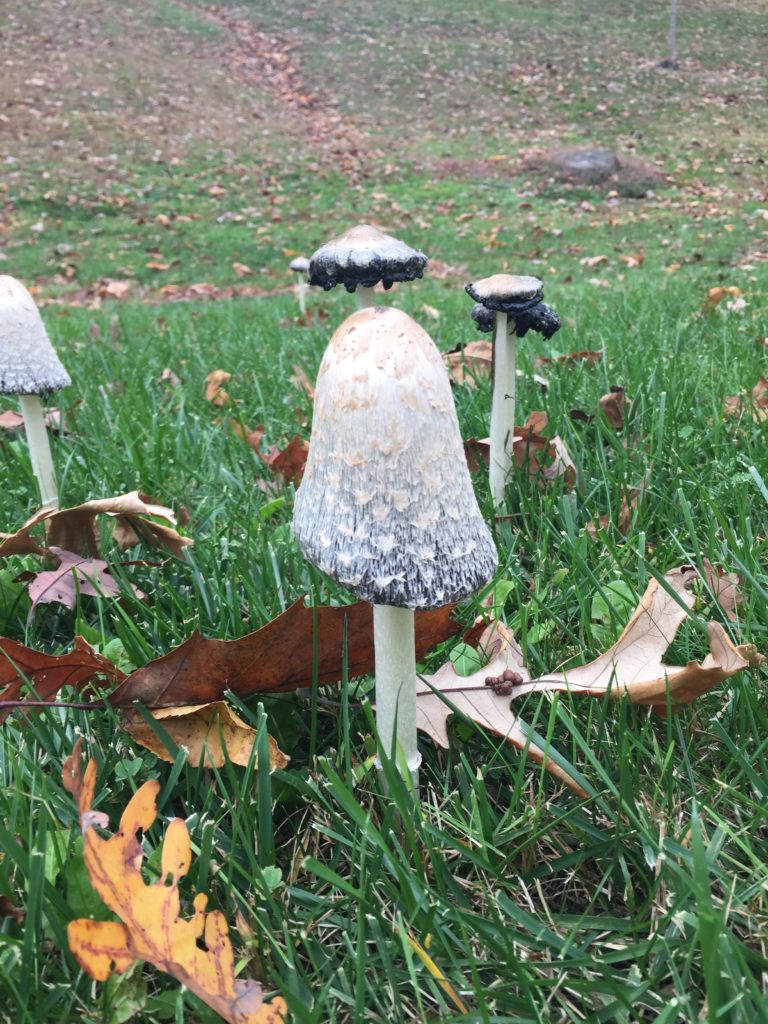 Today I want to touch on the importance of taking time to grieve.
Several months into our new normal, as I got my dad, mom and a bonus aunt with dementia, settled into nursing facilities to meet their various needs…after completely transplanting them from their home in Kentucky…I found I was crying.
All.the.time.
I cried so much I developed an infection around the delicate area encircling both eyes.
Anyone who knows me knows I am prone to tears, but this was beyond even my ability to cope with.
I finally went to see our pastor, who happens to also be our good friend, to seek some godly counsel and figure out if I was just straight up going crazy.
In simple words, he helped me see that I was not crazy (or at least any crazier than I had been before) but instead I was going through profound grief.
Grief???
I still had all my kin very, very, very ever-so-frustratingly very, ALIVE.
I tend to think of grief only in terms of my response to someone passing away.
But grief is about loss and I was suffering some losses.
Loss of our family as we had known it.
Loss viewed in the eyes of my husband and our children as the dynamics of our life were turned upside down and they now shared me with three others.
Loss of that comfortable distance that had been established by a set of parents that had gone where they pleased and did what they wanted my entire life and now were completely dependent on me.
Loss of freedom when our children were in school because now I was toting them to doctor's appointments, playing Bingo, missing my kids events to attend activities at the nursing home. Answering angry calls at all hours and advocating for each of them with staff in three facilities.
Those were all losses, but I found this phrase to be the most helpful to me that day as Pastor Wayne explained to me that I was not only grieving the sudden and dramatic change to our family life as we had known it…
I was grieving the loss of what I would never have.
A light went on as I suddenly realized the truth of this…while I had the physical representation of my father very much alive in my present world every single day…the father I had known was gone.
Whatever our relationship had been, there would never be more to it in terms of depth.
Whatever I hoped to have as a father-daughter relationship was at that point, pretty much over.
And that was the crux of my tears.
It's a strange grief to mourn the loss of someone who is very much alive…
very much in need of your care and your love…
and yet completely inaccessible in a tangibly relational way.
A strange grief indeed.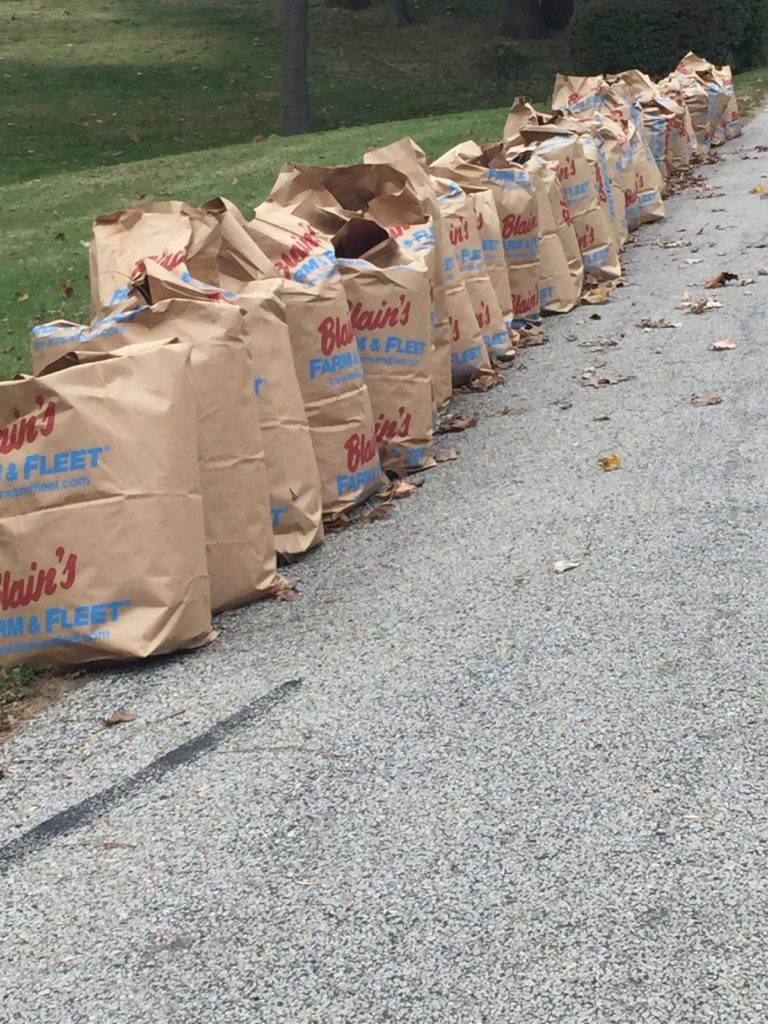 That day I determined to find a way to grieve properly. For the sake of my family at home, I knew I had to stop crying all the time.
So after prayer, I decided to forego wearing any jewelry except my watch and wedding ring for a period of time as an outward sign to myself that I was in mourning.
I am attracted to shiny things…so the absence of these adornments was a gentle reminder to me that I needed time to let God heal me.
One of our daughters noticed I wasn't wearing my beloved bling one day and asked why.
When I shared with her, she joined me for a time.
After awhile, she was released from her commitment to share my burden in this way, but she told me she would continue to pray for me.
After another period of time she told me she had something for me when my time of mourning had ended.
Eventually, I felt I had properly grieved.
I felt strengthened again to move into the new normal of our life…so I told her I would be ending my time of grief.
That next morning I found a little package of multiple silver earrings and a note from her rejoicing with me to move forward in a healed and whole way.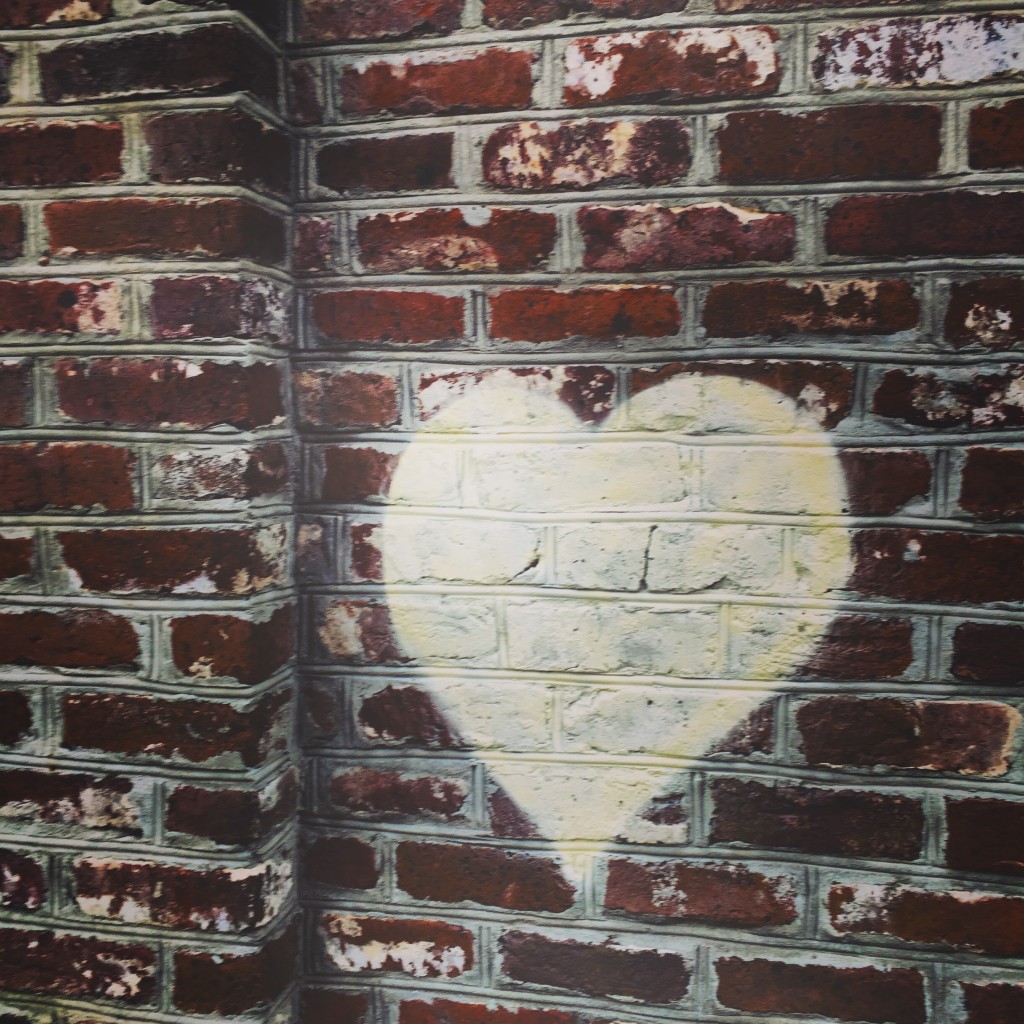 I still hold those earrings dearly in my assortment of jewelry.
They are a reminder to me of the support and love God gave me through Russ and our children during one of the hardest seasons in my life up to that point.
They are a reminder of the importance of identifying and acknowledging times of loss and properly grieving.
In quiet ways we can hold our brokeness to God and allow Him to do what only He CAN do <3
If you are dealing with the grief of loss of someone you love … whether it is Alzheimer or some other disease or disability, deception or distance…take time to grieve.
Ask God to show you how to pull away, in some way, from the distractions of life and to fully mourn what has been lost to you.
Let God heal you.
If you do not have a support system, find one.
For those who are struggling with the grief and loss associated with caring for a victim of Alzheimer, our church offers a wonderful support group led by Carol Smith that meets the third Thursday of the month at First Christian Church Decatur.
And speaking of Carol….
she is the contact lady for purchasing tickets for the Walk to End Alzheimer dinner (this is a pick up and take home dinner!!)
It's easy-peasy to participate…and here's what you can do:
By leaving a comment, sharing this post OR signing up to receive the blog by email…you will be entered into a drawing to win….
TA!DA!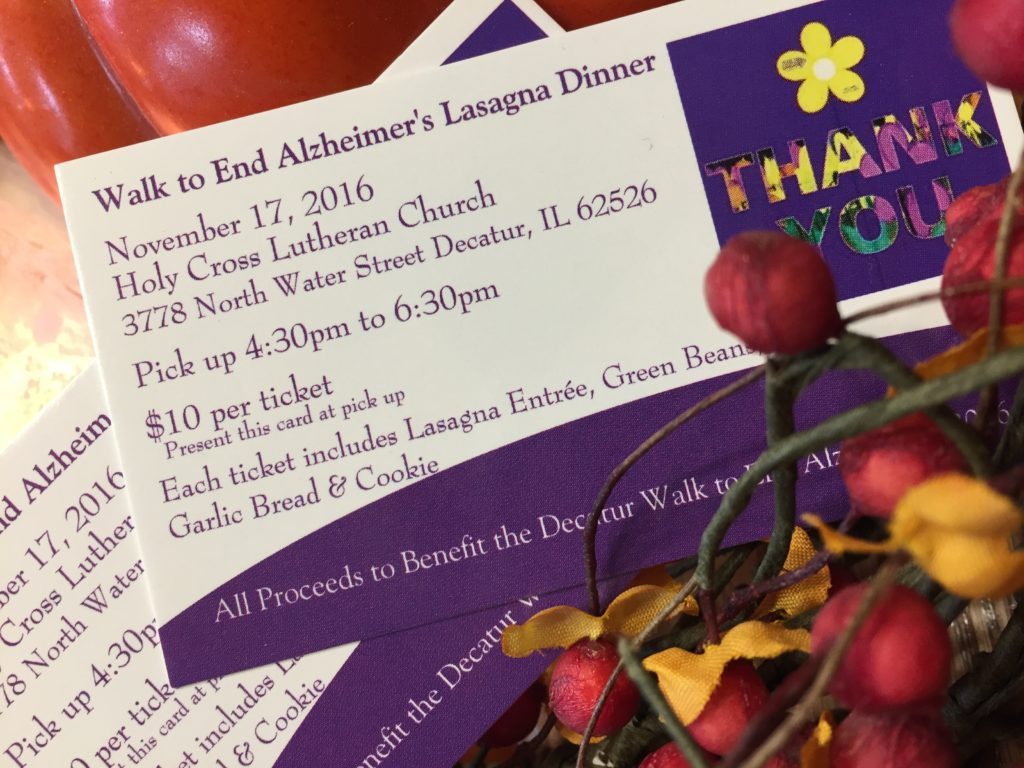 two tickets from Russ and me to you <3
*for obvious reasons….make sure you can actually USE the tickets…so while I HOPE to hear from ALL of you…only those within driving distance will be entered in the drawing <3
2. I also encourage you to consider purchasing tickets…
as well as spreading the word about the fundraiser.
It's a win-win as you get a good dinner and more funds are raised to find answers to this disease.
You can buy  tickets for $10 by contacting Carol Smith at 217-422-1877.
Dinners will be ready for pickup between 4:30 PM and 6:30 PM at Holy Cross Lutheran Church on Thursday, November 17th.
Drawing for the two tickets will be this Friday afternoon…
so make sure to…
either….
enter your  comment
and/or
 sign up for the email
and/or
share the post
by noon Friday <3