Spring in the Desert….Guest post by Leslie Kent <3
With this week's focus on dealing with the impact of Alzheimer, I asked my dear friend Leslie Kent to share some thoughts. Leslie was one of my support people back in my day, and now she is walking the journey with her own sweet mother. 
Like me, Leslie had a divine interruption a number of  years ago and spent several months helping close out her parents home in North Carolina to move them back here to Decatur.
She provided loving support for her father as he slowly lost his beloved wife to this disease.
Now Leslie, with the help of her husband and adult children, continue providing for Sarah's needs and advocating for her.
I know you will be blessed by her thoughts and photographs…and as a reminder…please remember to enter a comment or share the post to win two free tickets to the Alzheimer Lasagna dinner fundraise…details below <3
Autumn…
what is it about this season?
The landscapes, front porch decorations…
pumpkins, leaves that have changed their look . . . the beauty sometimes leaves me in awe.
My mother always said spring was her favorite season, but one would never know it by the autumn hues of our home. She decorated with olive greens, crisp oranges, along with a touch of gold and deep burgundy. She liked Autumn colors.
Mom has always been a private person.
Perhaps that's because she was child number thirteen, with only number fourteen coming along behind her as the family caboose. There's not a lot of privacy with that many under one roof.
She rarely wanted to call attention to herself. A corsage was never allowed on her dress. Too many would notice it.
Yet, she was always the first to offer assistance to anyone in need. She thought more of others than herself.
Our family enjoys October. We celebrate Mom's birthday. A celebration in her honor often brought some consternation to her face. The attention was sometimes too much. She would truthfully say, "Please skip the moment. October 30th is just like any other day of the year."
My mother has Alzheimer's Disease.
It's a cruel ailment that lasts and lasts and lasts.
Some call it the long good-bye.
I have come to despise the diagnosis and its ongoing implications.
Although Mom knows she is an October 30th baby, she no longer has any idea of how many pages have turned through a year's calendar.
She no longer knows the day of the week let alone the month of the year.
We had cupcakes, gifts, and framed photos of her new great grands all set for her on Sunday night.
The facility where she lives set aside a family room where we gathered to celebrate. It was a birthday party.
We walked through the door, bearing our festive 'stuff.' A panicked look flashed through Mom's eyes. I saw it. I knew it. She motioned me to come to her side and quietly stated, "I'll write a check."
I was taken aback until the panicked look of her eyes made contact with my heart. It made sense. She thought the party was for her granddaughter, affectionately known as Jacq. Mom didn't have a gift to bring.
Although the celebration was for her, she gave me a gift.
I was reminded of how she lived.
You see, Mom always lived her life to bless others, to make their situations more bearable, to lend a hand, to feed, to clothe, shelter . . . anyone, any setting.
Without fanfare, the birthday party was no different from her life despite the confusion of a memory-depleting disease.
Mom's first reaction, automatic and dependable, was to make some someone's else's life better. She assumed Jacq was having a party. She needed to assist and contribute.
I spent the next day experiencing joy as a grandmother with my 'daughter-in-love' helping care for our brand new twin baby grandsons.
I looked out the window into the young couple's garden.
An event was in play – out of season.
The unseasonably warm weather of the fall morning brought a surprising spring color to the autumn scene…
A beautiful, pink rose was blooming.
I think it should be called Mom's Rose of Spring – a gift of thinking more highly of others.
Many thanks to Leslie and her labor of love to share thoughts with us <3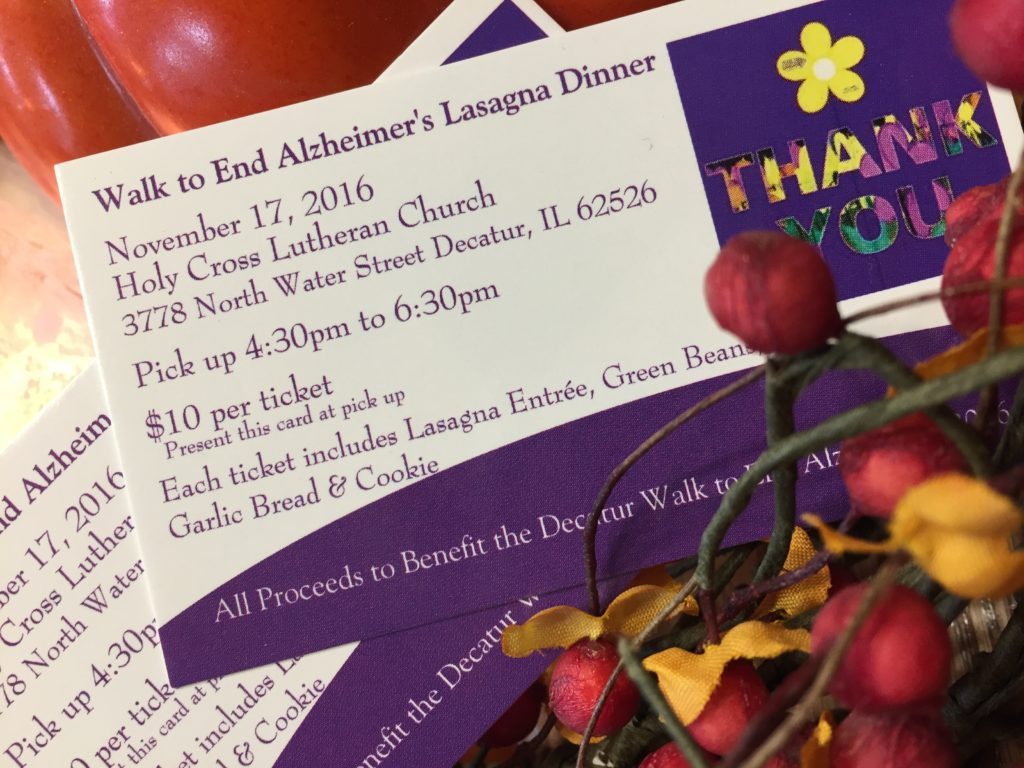 Details for the drawing:
Leave a comment, share the post or enter your email on the blog to win two dinner tickets.
These are prepared meals for you to pick up on November 17th between 4:30 and 6:30 at Holy Cross Lutheran Church.
You can also purchase tickets for yourself or for someone else to enjoy this yummy meal by calling Carol Smith at 217-422-1877
Bless you all <3