Art and perspective and trying new things <3
Hello and happy Monday and thank you from the bottom of our hearts for all the birthday wishes and especially for the love and concern and kind words for Russ's post on Friday.
You all are simply the best.
He is fine and doing well and except for a tender spot on the side of his head that he discovered when washing his hair, he did super great. We are so very thankful.
Two days after the whole thing, he was back on the pickle ball court and keeping me on the go. Which speaking of, we are headed out soon to help with the FCA Golf Outing so this will be quick.
On Saturday Sarah came and we had a wonderful day together. She took me to lunch and then we tried water coloring because she asked me what I wanted to do and that was my answer.
We had a blast and you can see our efforts above. You will also notice that I didn't have anything fancy. The watercolor supplies were not on sale, and I didn't know what brushes to buy so I bought a small sample of colors and some paper and the cheapest brushes.
I didn't get an official mixing palette thing so we used paper plates.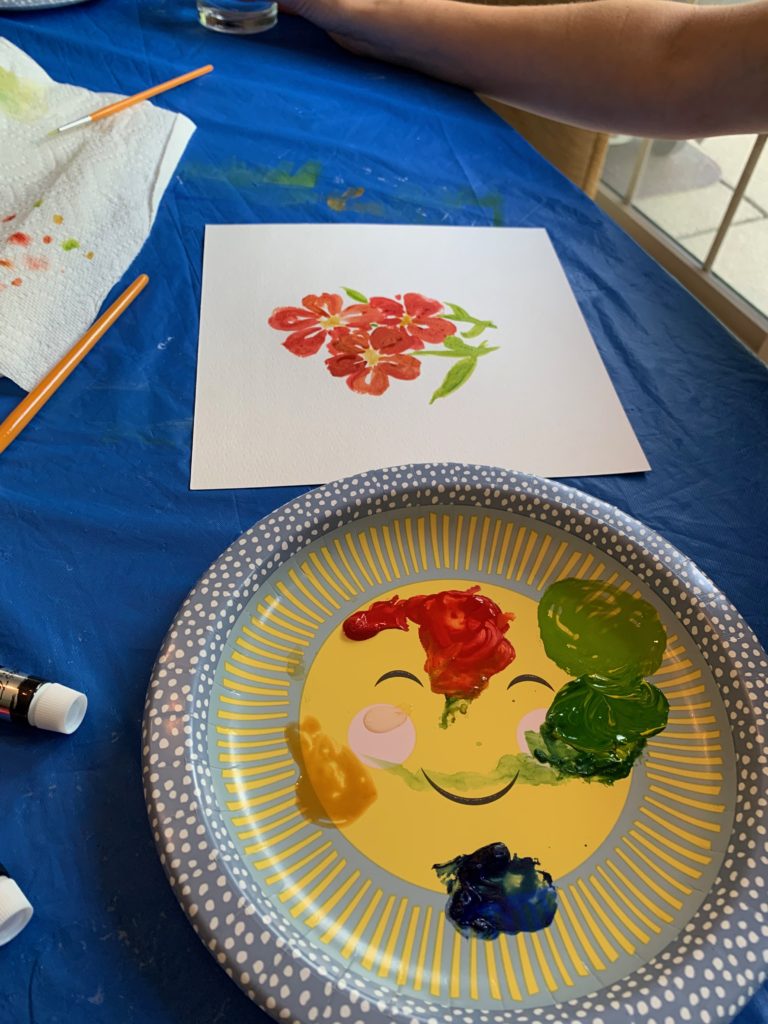 It was so much fun. I had found an artist who does tutorials and is hilarious…if you are a fan of Zooey Deschanel, are we….. you will love her. Her name is Jenna Rainey and this is one of the tutorials we used: https://www.youtube.com/watch?v=2__3fLFv5XI
I am planning on using individual flowers and paper tearing around them to create little note cards…cause waste not, want not. Will share a pic tomorrow.
But the whole experience had a cool point and here it is.
As she would start each flower, she would tell us where she was imagining or "seeing" the center as well as the angle of the finished flower. If it was straight on, or a side view. She would circle her paint brush in the air above this center that we couldn't see and she would then begin to draw the petals.
Constantly she would remind us to make sure the petals were pointing back to the center.
I thought about life and God and how He sees what I can't coming in the future. Each day, I start out centering on His Word and whatever devotions I am currently working on and then I just do the things.
But throughout the day, I have to remind myself to keep pointing to that "center"…that "angle" of the finished work of my day and my life that He sees, but I can't. I kind of have glimpses of it, but for the most part my job is just to paint those petals moving back towards the true center of it all.
Sarah and I tried to do what she was showing us and we would be disappointed, but then when the paint dried, everything always looked better than we thought it had.
Life really is art.
It's messy and beautiful and imperfect and yet so wonderful. We follow the directions as best we can, and yet are free to add our own splashes of creativity and best of all is sharing it with others <3