Perfect love casts out all fear <3
One of the downsides of having an active imagination is the inevitability of over thinking in the midst of any kind of possible threat and carrying all the plot lines out as if they were actually happening. 
Add to that imagination an ability to embellish with vivid details and you have before you the battle of my mind these days. 
I listen to all the mix of reports on the virus, the economy and the uncertainty of decision being made and I find I am fighting the urge to work through all the potential scenarios as if they were actually happening. I am purposefully focusing my thoughts on what is real and present right at this moment.
Throughout the day I have to pray for a sound mind and readjust that helmet of salvation over this scattered and over-thinking brain of mine.
As I have prayed, I was reminded of an experience with fear and health from my first visit to Kenya so I am sharing today.
When our church decided to send a vision team to explore ministry opportunities in the region where our home missionaries were set up, I felt a tug in my heart to go to this area we had supported financially and with our prayers for so many years.
But as the time drew closer for the actual trip, I realized that there was a fear in me regarding the inevitable exposure we would have to both HIV/AIDS and Tuberculosis.
While I am not a germaphobe, I can easily become panicky about serious illnesses and conditions in a way that can border on irrational. 
I know me well enough to know that the fear of contracting any of those could cause me to completely withdraw in such a way that I would be crippled and ineffective in engaging socially with these people I had come to love already through prayer and photos from the teams serving them.
So I asked some people to pray that I would not get weird and miss the whole experience because of my fears.
Well, they prayed and I was able to meet and greet and talk with not a shadow of the grip of the fear I had feared; and then very near the end of our time there, God just had to look down on this child of His and decide to make one more good, faithful and strong answer of His power at work in me to be visible so I wouldn't forget.
The Maasai, I learned, have no concept of our social hula hoop/bubble.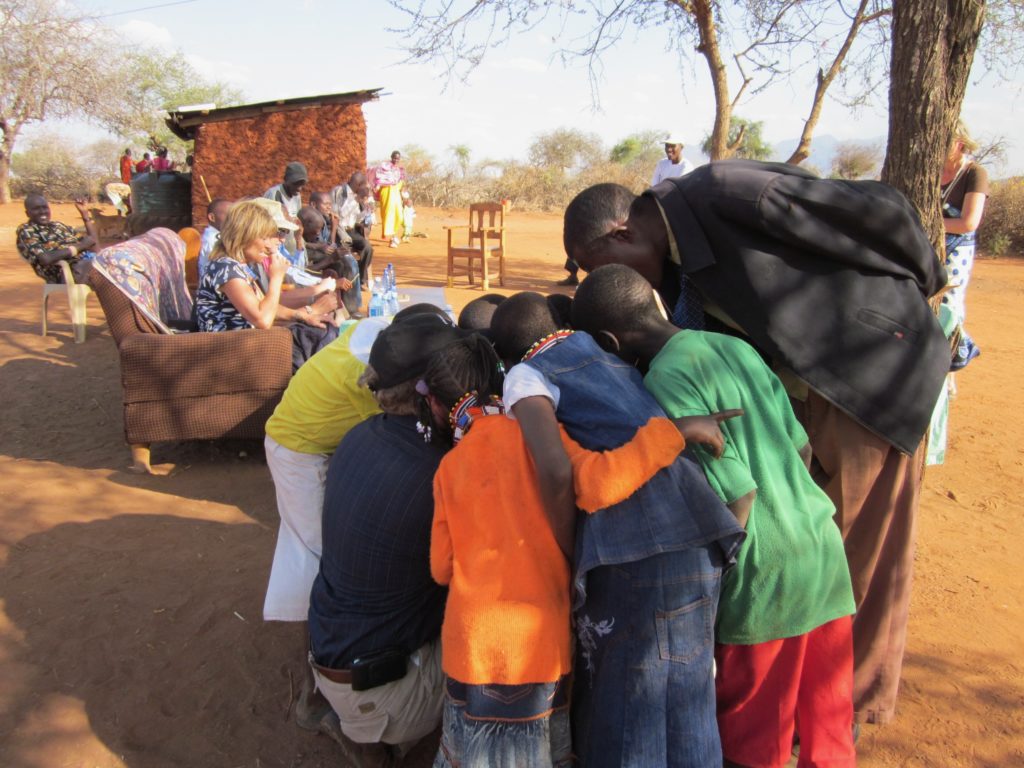 I had been crammed into vehicles with far too many people, held hands or walked arm and arm with many young women and older women as is their charming custom to do with friends.
I had sat in the close quarters of dormitories with the women's ministry team from the area as they shared their desire to learn more and teach others about Jesus.
And then we were hosted for a meal at the boma (home) of one of the Maasai families we were visiting.
I was approached at one point by a very tall and very thin Kenyan man, who coughed consistently and had the haggard eyes that were a telltale sign of the disease that would eventually take his life.
He told me his name and that he was dying of AIDS. His wife had died from same just recently and he was asking for prayer for their three young daughters who would be orphaned. He wanted me to pray over them and not forget them.
Knowing the culture, I called for one of my friends to come and stand with us in prayer and she bowed her blonde head next to mine as we put our hands on these three young girls.
Immediately their father stepped up to the tight circle and bowed his head over all of us.
So there we were.
Praying over these young lives as their father stood like an umbrella over our heads as we prayed.
And I had no fear.
Because over the top of it all, I felt the Father of all mercies smiling the way He does when He answers my prayers in ways I could not have imagined.
Instead of protecting me by keeping me clear of all my fears, He led me right into the thick of them and made His sweet Presence known. He showed me His heart and made mine a teeny bit more like His.
I wrote their names down and carried them in my prayers for many years.
Those girls are grown now and recently friends were able to snap a picture and send to me from their trip to Kenya.
We have many real things that could produce fear in us right now. But we have been told to not be afraid.
It is easier said than done, but we know…
Love casts out all fear. Perfect love, that is.
And the only Perfect Love is from the Father <3