Last night I attended the monthly Crafts and Coffee event at church…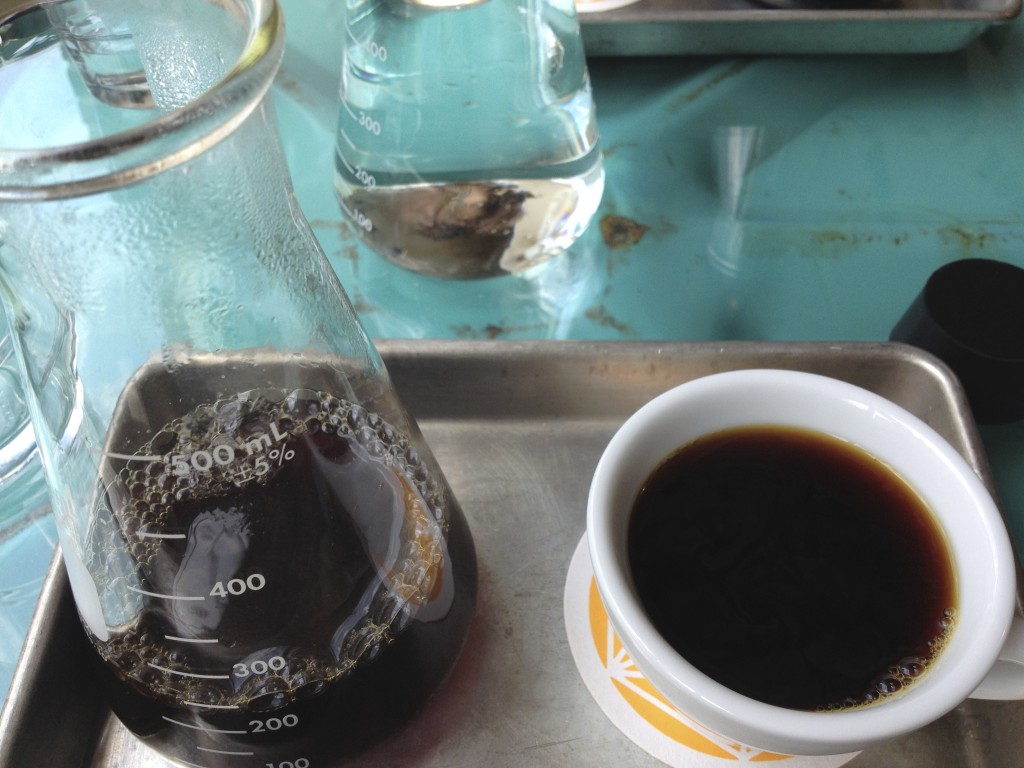 although…
now that I think about it, I don't think they were offering coffee…
ok…sorry…I'm back.
I was a little later, and I mean later than my usual five minutes, so everyone was already busy at work at the small tables in our cafe area when I arrived.
All that activity and creativity was like an adrenaline rush, so I moved around the various groups to admire the different projects and say hi to everyone.
There was a beautiful, three layered shawl emerging from one friend's circular needles that I may possibly have coveted.
Mint green, rosy pink and magenta all knit into delicate lace ruffles…It was so pretty that I hovered long enough to develop a deep desire to craft one of those babies in the near future.
Then there was the little gal with her bead box open, fashioning her amazing earrings.
Oh that looked fun and I do have a box of beads and the tools to make jewelry, so the seed was planted to drag those out sometime soon as well.
As my head was spinning with all the plans that were crowding in to an already overpacked to do list of incomplete projects, my eyes rested on the leader of our group as she sat at her spinning WHEEL.
Seriously.
The girl spins yarn…out of fiber she has dyed. Herself.
I asked her if she made the dye, and thank goodness for both of us she doesn't, because I am not sure I could have handled much more amazement.
She sat there feeding what looked like colorful insulation into this brown, wheeled, gizmo…smiling and pedaling with her cute little feet, chatting with me as nimble fingers fed the fluff into the part that turned it into…I don't know…yarn? thread?
And all of a sudden I realized the blessed peace of relief that I get when people talk about running a marathon.
Because I have absolutely no desire to do any of that, ever.
Not dye fiber.
Not spin fiber.
Not run a marathon.
Not even a half of desire to do a half of a marathon.
(The only thing I remotely might consider is raising alpacas and sheep FOR the fiber, because I am such a magnet for the animal kingdom…that I think I might actually have a knack for shepherding…plus…great blog material potential in ranching, I would think…)
And so I sank into a chair next to her, laughing and we talked about how great it is when you realize you really don't care if you ever get good at something.
She acknowledged that she had done the same with the concept of improving her cooking repertoire and has peaceful contentment serving the meals she has mastered up to this point, thank you very much.
In this Pinterest driven, FaceBook….15 minutes of fame…so many great ideas, so little time world…isn't it grand when we can eliminate some things off our list because we know…good on you if you can do it and I will just applaud you with absolutely no envy or sense of competition or drive to learn this skill; because I am happy to be a spectator in your arena!
Hallelujah!
So what are your interests that draw you like a moth to a flame?
And what are those things that you love to watch in others, but are quite content to never ever feel pressured to learn?
Isn't it wonderful that we can appreciate each others gifts and interests, whether they are mutual or wildly different?
AND………..
If you are interested in checking out a little more about my sweet and talented spinning friend, I received permission to share her new website with you….you will find her at ….
//www.andreagrundendesigns.com/
God bless you all in whatever you love to do and cheers for those things you feel free to pass on!
See you tomorrow!